Trump appoints hostage crisis expert as successor to Bolton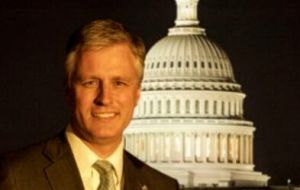 US President Donald Trump Wednesday chose Robert C. O'Brien to replace the disgraced John Bolton as the new National Security Adviser, a position which does not require Senate confirmation.
"I am pleased to announce that I will name Robert C. O'Brien, currently serving as the very successful Special Presidential Envoy for Hostage Affairs at the State Department, as our new National Security Advisor. I have worked long & hard with Robert. He will do a great job!," Trump posted on Twitter.
O'Brien was up until Wednesday a presidential special envoy for hostage affairs at the State Department, where he reported to Secretary Of State Mike Pompeo, who appears to be the most notorious winner in the Bolton case saga.
Bolton was a hard-liner who held the position for more than a year before his dismissal September 10 for
- in Trump's words - a "disaster" on North Korea policy and "out of line" on Venezuela in addition to not getting along with high-ranking administration officials.
O'Brien was selected for his involvement
since May 2018 with families of American hostages. He gained particular notoriety this past July when he was sent by Trump to Sweden to assist in the trial of rapper A$AP Rocky, who faced assault charges against a 19 year old fan at a concert in Stickholm. O'Brien's presence helped turn the case into a major diplomatic incident with an allied country.
The newly-promoted official previously helped lead an initiative for justice reform in Afghanistan during the administrations of George W. Bush and Barack Obama.
In 2005, President Bush nominated O'Brien to be US Representative to the UN General Assembly, where he worked with Bolton. At that time Bolton was US Ambassador to the United Nations.
O'Brien has also served as an adviser to the Republican presidential campaigns of former Wisconsin Governor Scott Walker, former Massachusetts Governor Mitt Romney and Senator Ted Cruz of Texas.
He was a major in the US Army Reserve and, after graduating from the University of California-Berkeley School of Law, founded a law firm in California that focused on international arbitration issues. As national security advisor, O'Brien will be the highest-ranking Mormon in the US government.