Argentine firefighter hospitalised in Bolivia for smoke poisoning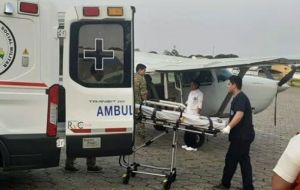 Argentine forest firefighter Jhonatan Villalva had to be ferried Wednesday to a medical facility after suffering from poisoning by smoke as a result of his deployment to the fire-plagued Chiquitanía area in Bolivia.
According to Bolivia's Defense Ministry sources, the 26-year-old Villalva was first transferred by helicopter to the hospital at the municipality of Concepción and flown later on in an Air Force light aircraft to the city of Santa Cruz for further studies.
First responding doctors said the Argentine serviceman was "stable" but required further testing.
The Argentine officer belongs to the Support Executing Unit (UNEJAP) that arrived in the Bolivian Chiquitanía, to join the solidarity fire control tasks.
He was performing these tasks in the community of Santa Monica 30 kilometers from Concepción when he decompensated.