Argentine veteran decries planned Cordoba-Mt Pleasant flight
Thursday, September 19th 2019 - 10:43 UTC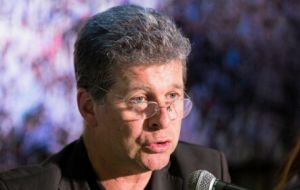 Former Argentine Army conscript Edgardo Esteban Wednesday claimed LATAM Brasil's planned Sao Paulo-Mount Pleasant passenger flight with a stop in the Argentine city of Córdoba serves only the interests of the Falkland islanders.
In a radio interview, the 1982 war veteran who became a journalist and a writer, was particularly critical of President Mauricio Macri's decree authorising those flights.
In fact, Macri's decision is consistent with his drive towards an open skies policy, having cleared the way already for several budget carriers to operate in the country, which in turn has resulted in air travel becoming affordable to the average worker in addition to creating a number of new jobs.
But Esteban insisted on FMQ Radio that the decree responds to the exclusive interest of the islanders to maximize and benefit their commercial activity.
"It was an agreement that was made in 2016 and that was part of this government's 'delivery' [scheme], worse than that by [then President Bernardino] Rivadavia and his armies when they ended up handing over the Oriental Republic of Uruguay [in the 1820s]," he said.
In his view, "those who go there (to the Falklands) are not tourists, but just the relief personnel of those who are going to be exploiting our hydrocarbon resources."
The 57-year-old Esteban was awarded the Azucena Villaflor Prize in 2012 by then President Cristina Fernández de Kirchner and is known for his allegiance to the latter's Victory Front (FpV) party.