Judge wants former Argentine president arrested yet again
Friday, September 20th 2019 - 22:27 UTC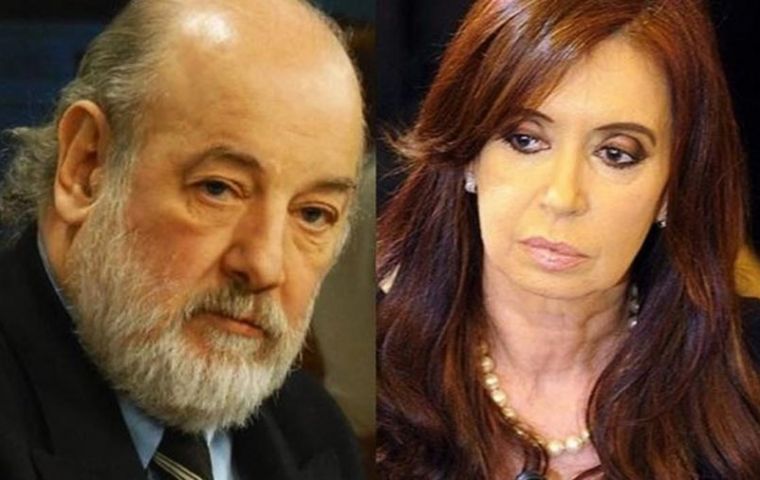 Buenos Aires Federal Judge Claudio Bonadio has again asked the Upper House to strip Senator Cristina Fernández de Kirchner off her parliamentary immunity so that she can be placed under pretrial detention for her alleged involvement as gang leader in the so-called "notebooks corruption scandal."
Facing charges in the same case alongside the former president and current vicepresidential frontrunner are former Planning Minister Julio De Vido and around fifty other high-ranking officials from the Kirchner era which spans from 2003 to 2015.
Bonadio has thus summed up his case and brought it together for an oral trial at a court yet to be determined.
The "Notebooks of Corruption" case was dubbed so due to the notes taken by Oscar Centeno, a former driver of Roberto Baratta, who has been singled out as the middle man in the obscure deeds under investigation, which would link Kirchnerite officials with tycoons such as Carlos Wagner, Enrique Pescarmona, Aldo Benito Roggio, Eduardo Eurnekian, Alberto Taselli, Alejandro Pedro Ivanissevich and Hugo Dragnetti.
But since everyone is presumed innocent until proven otherwise, pretrial detention only applies when the suspect can interfere with an ongoing investigation or poses a flight risk.
The second assumption would never hold in court, because CFK arrived in Buenos Aires Thursday back from Cuba after spending a few days with her daughter Florencia Kirchner, who remains on the island on alleged medical grounds.
CFK flew to Havana on September 11, after being authorized by the Judiciary.