Prosecution opens extortion case against Argentine President Macri
Friday, September 20th 2019 - 10:30 UTC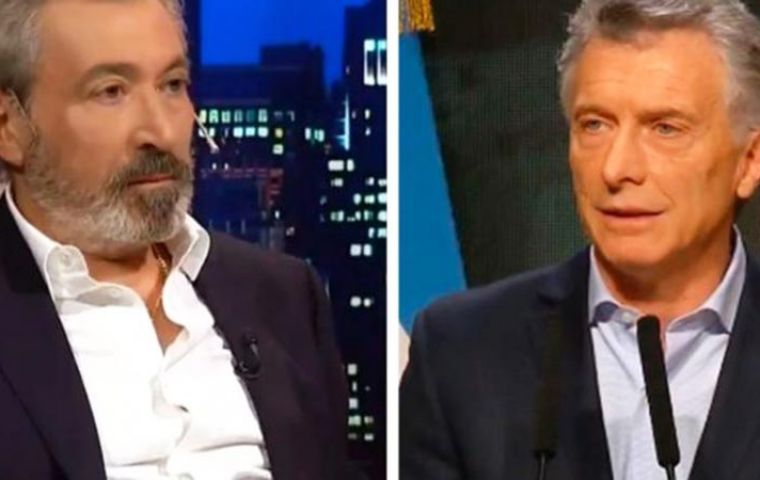 Argentine Federal Prosecutor Guillermo Marijuan was appointed Thursday to lead an investigation against President Mauricio Macri for allegedly extorting a media businessman to relinquish spectrum frequencies which the government was interested in passing on to a rival group.
Marijuan filed a complaint after media mogul Daniel Vila appeared on TV and gave details of what had allegedly happenned and was appointed for the prosecution to work on the case conducted by Federal Judge María Romilda Servini.
The Grupo América CEO Vila revealed Wednesday in an interview on the America TV Channel he owns that Macri had pressured him via a criminal prosecution to drop a frequency spectrum the head of state had promised media rivals Grupo Clarín.
"Macri had made a deal with me. When he took office, he asked me that the company I represent, Superlink Arlink, returned the spectrum to the State. We were in a conflict situation, there were judicial measures that paralyzed the spectrum and he asked me to return it, because he had promised to hand it over to Clarin. I told him I couldn't," Vila explained.
He added that "finally, I handed him a signed piece of paper [whereby] I declined to move forward with these judicial measures and he promised to keep it and present it only the day I sold my company," he said.
But "he [played] that judicial document ahead of time, [so] the company's lawyers (...) prevented that spectrum from returning to the State. What did the president do there? He sent Minister [Oscar] Aguad to file a criminal complaint. When I returned the spectrum, he [Macri] texted me telling me that he had already instructed the Attorney to drop the criminal complaint."
Vila underlined the interference of the Executive into the domains of the Judiciary, which he found unacceptable because "we live in a Republic where branches of government are independent."
Asked by interviewer Alejandro Fantino about what would happen should a prosecutor act on his statements ex officio and open an investigation, Vila was defying: "I have no problem, I have the phone messages (...) and the screenshots, all of which has been notarised."
That was Wednesday evening. By Thursday it was no longer a "what if."
Marijuan's first move in the evidence-gathering phase was to sumit a request to Servini so that Vila produces everything he mentioned and be summoned to testify.