United States expels two members of Cuba's diplomatic mission to the UN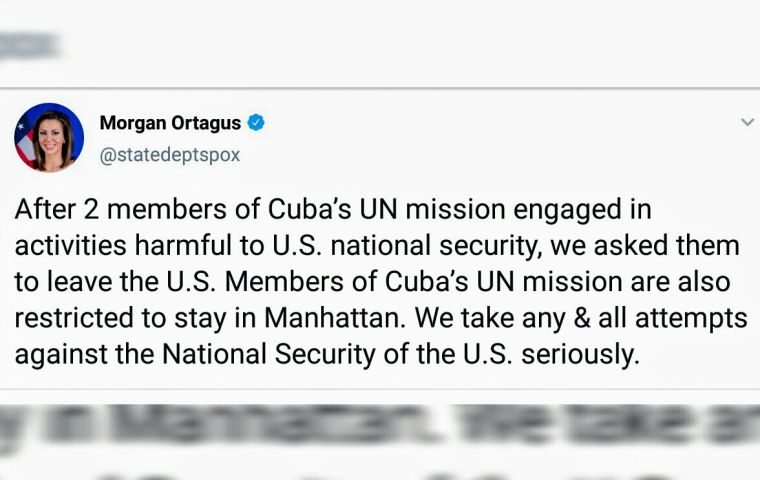 The government of the United States has expelled two members of Cuba's permanent mission to the United Nations due to their alleged involvement in "activities harmful to US national security," according to State Department spokeswoman Morgan Ortagus' posting Thursday on Twitter.
"After 2 members of Cuba's UN mission engaged in activities harmful to U.S. national security, we asked them to leave the U.S. Members of Cuba's UN mission are also restricted to stay in Manhattan. We take any & all attempts against the National Security of the U.S. seriously," Ortagus wrote.
Cuba's mission to the UN is made up of 16 people, according to its website. And the remaining members of the delegation have been imposed a restriction which allows them to move through Manhattan, New York and must request authorization to travel to another part of the country.
The expulsion takes place days before the presence of world leaders in the UN General Assembly and shortly after the US Government extended for another year the commercial blockade imposed on the island in 1962.
Cuban Foreign Minister Bruno Rodríguez said that the US wants to increase the tension with the island with these measures. "It is vulgar slander the imputation that they performed acts incompatible with diplomatic status."
Rodríguez also said on Twitter that the expulsion of two diplomats and tougher restrictions of movement to the rest are aimed at causing diplomatic tension which would lead to the closure of bilateral embassies.
Cuba's alternate permanent representative to the UN Ana Silvia Rodríguez flatly rejected the expulsions of the two diplomats, whose names were not disclosed.