Bachelet pities Brazil over Bolsonaro's support to Pinochet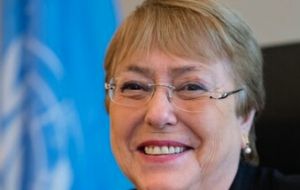 The United Nations' High Commissioner for Human Rights Michelle Bachelet said Saturday she felt "sorry for Brazil," after President Jair Bolsonaro publicly expressed his support for former Chilean dictator Augusto Pinochet.
Bachelet, a two-time president of Chile herself, said in a television interview broadcast in Santiago that "if there is a person who says that in [this] country there was never a dictatorship, that there was no torture, that my father's death by torture enabled (Chile) not to be another Cuba, the truth is that it makes me pity Brazil."
Earlier this month Bachelet had criticised the "shrinking civic and democratic space" in Brazil to which Bolsonaro responded by with praising Pinochet's "courage" to deter the left and "communists like her father."
Alberto Bachelet, Michelle's father, was an Air Force general and opposed the military coup led by Pinochet in September 1973. He was arrested and tortured. He died in custody in February 1974.
Michelle was also arrested and tortured by Pinochet agents in 1975. The Chilean courts estimate that about 3,000 people disappeared during the dictatorship and more than 30,000 were tortured.
Bachelet said the "reduction of the democratic space is not just happening in Brazil". She made it clear that in the area of ​​human rights "there is no perfect country".
She also downplayed press reports linking her second presidential campaign in 2014 to under-the-table contributions from Brazilian contractor OAS.
"My truth is the same as always. I don't have, I have never had links with OAS or any other company," said Bachelet, who considered the subject's return to the press "strange".
Speaking of her role in the Venezuelan crisis, Bachelet replied that many regard her mistakenly as the "virgin Mary" who can solve the problem.
"I am High Commissioner and I want to maintain my relationship with the Venezuelan state to continue working and to help them resolve the critical human rights situation," she said.
For the United Nations, "Juan Guaidó is the president of the Assembly and the president-elect is Nicolás Maduro," she insisted.
Bachelet also said that after two terms as president of Chile (2006-2010 / 2014-2018) she would not seek a third term in office.