New sex scandal hits Panama's Catholic Church - three priests spared from duties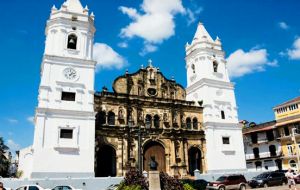 Three Catholic priests were removed from their religious functions in Panama Friday for "inappropriate" and "scandalous" behaviours, after a digital news outlet revealed sexual encounters of priests with men, including a minor.
"The Archdiocese of Panama feels deeply hurt and ashamed to receive information about the inappropriate and scandalous behaviours of priests Rogelio Topin, Orlando Rivera and Karl Madrid," the Church said in a statement.
The scandal comes after the Panamanian website Claramente published a video recorded with a hidden camera by a young Venezuelan man who had sex with the priest Rogelio Topin in a car. Although his age is not revealed, the website made it clear he was not a minor.
In the recording, Cristian, the fictional name of the young man, says he has just been hired "by a priest of the Catholic Church" in Panama "in order to have sex."
"It is not the first time, [he] does it three and four times a week (…) I do it because of the need I have in this country, it is not easy. I record it because I feel anger and I feel discomfort," adds Cristian with his face blurred.
According to the website, Cristian worked at the Don Bosco church in the central neighbourhood of Calidonia, in Panama City when he was approached by a priest who proposed to give him money in exchange for sex.
Audio recordings and WhatsApp textings of other possible sexual meetings allegedly involving priests sexually with other men, including a Nicaraguan minor, have been published by Claramente.
Because of this scandal, the Archdiocese of Panama reported that it has decided to spare the three priests from their duties in order to "restore justice, seek the conversion of the clergy and repair the scandal caused."
Also this year a popular Panamanian priest was accused of allegedly covering up a crime that occurred in a hotel, where the priest used to regularly rent a room and in which, according to witnesses, orgies and parties were sometimes held.