Falklands' Chamber of Commerce Board elects Mike Summers as Chair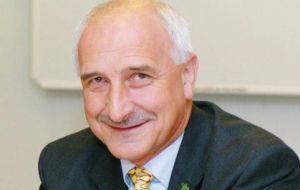 Ex-member of the Legislative Assembly Mike Summers was elected as Chair of the Falkland Islands Chamber of Commerce Board following the 2019 Annual General Meeting last week.
A statement announcing the new Board Members said: "We look forward to an exciting year encouraging and supporting a healthy business community in the Falkland Islands."
Karen Drysdale is now Treasurer, and Owen Betts and Eva Jaffray are Directors.
The Board of Directors stands as follows: Chair: Mike Summers (sole trader),Vice Chair: Sally Ellis – International Tours & Travel Ltd. (ITT), Treasurer: Karen Drysdale – Consolidated Fisheries Ltd. Directors: James Bates – Falkland Islands Fishing Companies Association, Owen Betts – OK Haulage, Gareth Goodwin – Stanley Services Ltd, Eugene Hurley – South American Atlantic Services Ltd. (SAAS), Alison Inglis – Pinsent Masons LLP, Eva Jaffray – Seafish (Falklands) Ltd.
Retiring Directors, Pippa Christie and Bonnie Curtis were thanked by the Board along with Bernie Goodwin and Andrea Clausen, "for their contributions to the Board and Chamber during their time as Treasurer and Chair respectively."
The Chamber of Commerce has a current and increasing membership of over 80 Falkland Islands based businesses of all sizes. (PN).