Despite talks with UK envoy, EU and Ireland feel chances of a negotiated Brexit deal are fading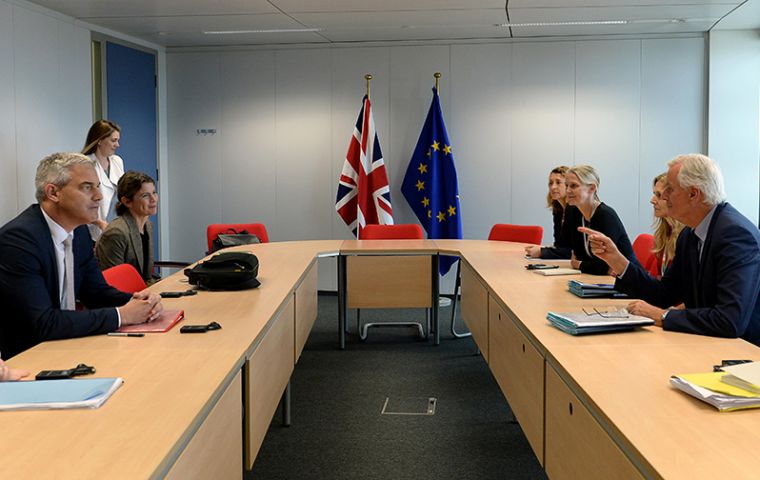 Hopes for a negotiated Brexit deal were fading on Friday as EU negotiator Michel Barnier separately met senior British and Irish ministers for another round of inconclusive talks. Britain is due to leave the European Union in less than five weeks.
Prime Minister Boris Johnson wants to hammer out a new divorce agreement in time for a European summit on Oct 17.
But his negotiator, Brexit Minister Stephen Barclay, has yet to present Brussels with any legal text for the eventual treaty, and time is running out.
"I think there are still significant gaps between both sides," Irish Deputy Prime Minister Simon Coveney said after his talks with Barnier.
"And until there is a serious proposal in writing that can be the basis for a negotiation then the gaps that are wide at the moment will remain."
Barclay adopted a more optimistic tone after his meeting but was unable to point to any concrete progress.
"Well, I think there's still a long way to go. I think we are coming to the moment of truth in these negotiations, we will see if there is political will on both sides," Barclay said.
After meeting Coveney and then Barclay separately in EU headquarters, Barnier issued a reminder of the EU position.
"Michel Barnier stressed that it is essential that there is a fully operational solution in the Withdrawal Agreement to avoid a hard border on the island of Ireland, protect the all-island economy and the integrity of the Single Market," the EU said.
"The EU remains open and willing to examine any workable and legally operative proposals that meet all these objectives."
This came as Johnson continues to insist that the deal must do away with the so-called "backstop" clause that his predecessor Theresa May agreed to.
That measure keeps the UK - or at least Northern Ireland - in the EU customs union until a way is found to keep the Irish border open.
But Johnson and the pro-Brexit MPs who rejected the previous withdrawal agreement argue that is a trap to keep Britain in the EU orbit.
The British leader, who has been in office since July and has yet to win a parliamentary vote, insists he would rather be "dead in a ditch" than delay Brexit.
"We are committed to securing a deal. We're committed to leaving on Oct 31, but that deal has to be without the backstop. Parliament has rejected the backstop three times," Barclay said.
"I have been very clear with Michel Barnier and Taskforce 50 in the negotiations, the backstop has to go, but with good will on both sides a deal can be done."