Argentine ruling coalition wins election in Mendoza, but keeps Macri well away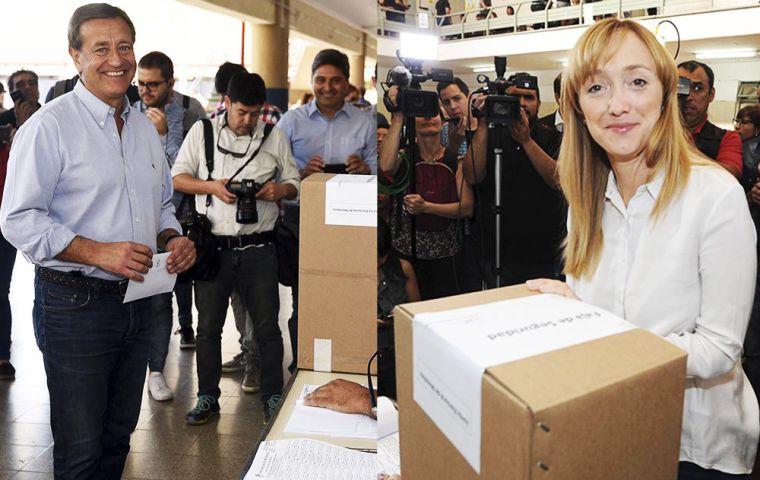 The province of Mendoza has delivered to the Argentine ruling coalition of president Mauricio Macri a much needed great stimulus with its landslide governorship victory.
In effect, Rodolfo Suarez, from the Radical party, an ally of Macri, won on Sunday the Mendoza governorship with over 50% of votes cast in a record turnout of 82%, while the Kirchnerite candidate, Anabel Fernandez Sagasti, only managed 34%.
Ms. Anabel Fernandez Sagasti admitted defeat and congratulated her opponent, Rodolfo Suarez who is the current mayor of the City of Mendoza. The incumbent victory was extensive to most of the urban areas of Mendoza, and is believed to be the result of a well designed strategy by the current governor, Alfredo Cornejo, from the Radical party.
In effect, Cornejo, who can't be reelected, insisted in holding the provincial election at a different date than the presidential one and thus avoiding exposure to the devalued figure of president Macri and the bashing he suffered in the primary election in August, when Alberto Fernandez with Cristina Fernandez were the clear winners triggering a major confidence and financial situation in Argentina.
The strategy proved to be right. In the PASO primary in Mendoza at governor level Cornejo's party obtained 42.9% of the vote, compared to an absolute majority this Sunday with mayor Suarez.
Likewise at presidential level the August PASO in Mendoza, had Alberto Fernandez ahead with 40.48% of the vote, while the Macri/Miguel Angel Pichetto ticket only managed 37%.
Victory had a special flavor for Cornejo and the Radical party since Alberto Fernandez visited and campaigned in Mendoza on several occasions, and also held a meeting of all the Peronist and Kirchnerite governors in the province, in support of their candidate Anabel Fernandez Sagasti.
Looking into the future, Cornejo believes Alberto Fernandez will become the next Argentine president and apparently has a good personal relation which should be helpful for the province of Mendoza, known for its quality wines and energy production.