Malvinas carved plaque inaugurated at Casa Rosada
Monday, September 30th 2019 - 07:08 UTC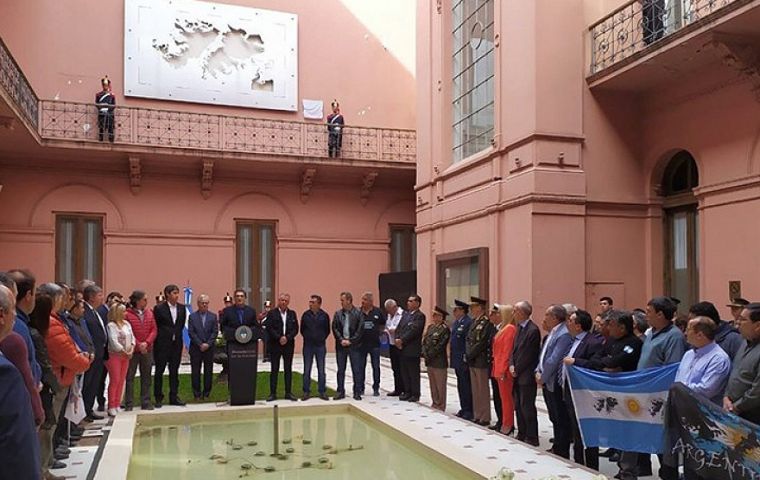 The Argentine government honoured Malvinas war Veterans with a ceremony at Government House, Casa Rosada, where a plaque with the Falkland Islands contour was unveiled together with an inscription underlining the valor of the combatants in their determination to recover the South Atlantic Islands.
"This is a homage to those who in our Malvinas, Georgia and South Sandwich Islands fulfilled the sacred oath to defend the Motherland and if necessary to the ultimate sacrifice", reads the inscription at the foot of the carved plaque with the signature of the Former Combatants National Committee.
The ceremony was attended besides the Combatants Committee by the deputy head of the Senate, Federico Pinedo, the head of the Joint Chiefs of Staff, General Bari del Valle Sosa, Human Rights Secretary Claudio Avruj and the Home Secretary Institutional Affairs chief, Adrian Pérez.
The ceremony was organized taking into account the fact that the Former Combatants Committee, with delegates from all of Argentina, was meeting in Buenos Aires to present a list of demands, and march in downtown up to the Supreme Court where some cases are awaiting rulings.
"For the first time we have a Commission elected democratically and be sure, there is no turning back. Our community is united in the love and respect for our ex combatants, heroes of our motherland. Here there is no such thing as a gap", said Secretary Perez.
Cesar Garcia, head of the former combatants committee said that "we are part of Argentine history and society. Today, thanks to our struggle and endeavor we have moved forward, we have a federal commission in which all of us, and all the provinces are represented".
Human Rights secretary Avruj underlined: "the standing commitment of the Argentine state in honoring our fallen and former combatants".
Finally Senator Pinedo pointed out that Malvinas is the most solid signal of national unity, which shows us that we Argentines have something in common"
The Ex combatants committee which depends from the Home Secretary was created in 1994 to address veterans issues. Its board was directly nominated by the Executive, but since 2017, following on decrees 148/17 and 741/17 are democratically elected at federal level (all provinces) and following strict transparency rules.