Falklands flagged, BAS latest incorporation: RRS Sir David Attenborough"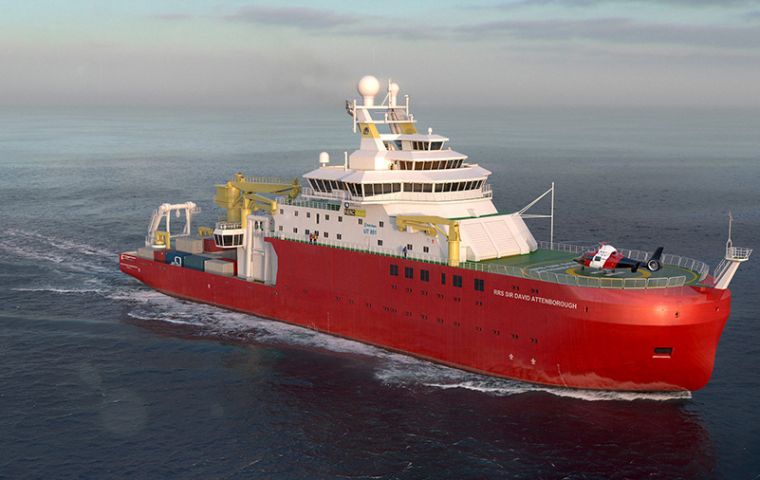 The Royal Research Ship RRS Sir David Attenborough, has been flagged to the Falkland Islands and officially named in a ceremony at Birkenhead, near Liverpool on Thursday September 26.
Commissioned by Natural Environment Research Council, built by Cammell Laird and operated by British Antarctic Survey, the new research platform will carry out work in the Polar regions.
Sir David Attenborough said that the ship's role would be vital: "This astonishing ship will find the science with which to deal with the problems that are facing the world today and will increasingly do so tomorrow."
He also said it had been a great honor to have such a ship named after him. The Duke and Duchess of Cambridge were also at the naming ceremony; the Duchess officially named the new ship.
Speaking after the event the Falkland Islands Government's Marine Officer, Captain Chris Locke said: "It's a great honor to have such an important scientific vessel on the Falklands Flag. A significant amount of work has been undertaken by the Falkland Islands Government to ensure the vessels registration went ahead on schedule. It was a privilege to be able to attend the ceremony."
Sir David Attenborough has a maximum speed of 17.5 knots (32.4 km/h; 20.1 mph) in open water and ability to break up to 1-metre (3.3 ft) thick level ice at a speed of 3 knots (5.6 km/h; 3.5 mph). At an economical cruising speed of 13 knots (24 km/h; 15 mph), she has an operating range of 19,000 nautical miles (35,000 km; 22,000 mi).
For manoeuvring and dynamic positioning, the vessel has four 1,580 kW (2,120 hp) Tees White Gill thrusters, two in the bow and two in the stern. Her ice class, Polar Class 4, is intended for year-round operation in thick first-year ice which may include old ice inclusions.
However, her propulsion system is rated for Polar Class 5 which is intended for medium first-year ice.