Falklands/Sao Paulo air-link will be serviced with a Boeing 767, Argentine sources
Saturday, October 5th 2019 - 09:55 UTC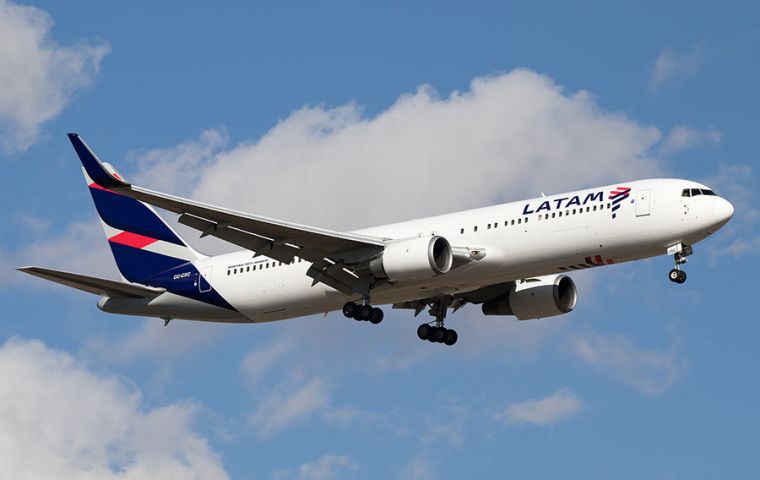 The Argentine media has revealed some additional details about the coming weekly airlink between the Falkland Islands and the South American continent, scheduled to begin "sometime in the second half of November".
According to La Nacion the LATAM Brazil Wednesday flight Sao Paulo/Mount Pleasant Airport, with a monthly call in Cordoba, in each way, will be serviced with a Boeing 767, which can carry 200 passenger and has a larger cargo capacity, compared to the LATAM Chile Airbus 320, airlink Punta Arenas/MPA, with a similar monthly stopover but in Rio Gallegos.
La Nacion also reports that the Argentine Civil Aviation Administration, which depends from the Ministry of Transport, on the Friday edition of the Official Gazette published Resolution 665/2019 which calls on the airline to provide all the pertinent information relative to the flight, issues such as fares and timetable.
"This is one of the last bureaucratic steps of the long crusade to implement the flight", diplomatic sources commented. The Ministry of Transport also insisted that "there should be no problems" for the air link to be inaugurated as planned. Likewise the Argentine foreign ministry confirmed that the opening is scheduled for next month, and there is no information indicating an alteration of the original timetable.
"It's a great achievement. Knowing each other is the essence of trust", were the comments from foreign minister Jorge Faurie's office. The new link is the result of an understanding between UK and Argentina representatives that two years ago decided to complement the original connectivity accord and called interested parties in covering a new frequency between Argentine continental territory and the Malvinas Islands. Four airlines, all Brazilian, participated in the bidding process and last January it was announced that Latam Brazil had been selected.