Argentina: Oil industry fearful of tariffs' freezing as suggested by Alberto Fernandez advisors
Friday, October 11th 2019 - 09:58 UTC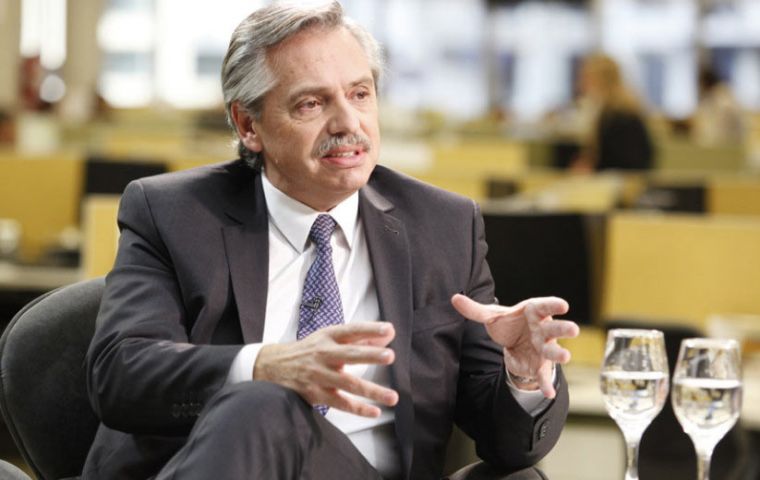 Argentina's front-running candidate for president, Alberto Fernandez, has been asked by advisors within his left-leaning coalition to freeze natural gas and power tariffs and to peg oil product prices to pesos instead of dollars as measures to contain inflation and spur economic growth.
The advisors from the Peronist Party, a main faction of Fernandez's Frente de Todos coalition, published a report late Wednesday with their recommendations for the candidate if he is to win the October 27 general election, which is widely expected.
Oil companies are closely watching the campaigning for signs of the direction of energy policy, with most waiting to see what happens before investing in any new projects.
Fernandez has shared few specifics on what his energy policies could be, other than that he is in favor of developing Vaca Muerta, a huge shale play that is driving the country's oil and natural gas production growth and boosting export potential. The candidate, however, has said that instead of just exporting all of the production, he would prefer to use it to build up local industry to export value-added products like diesel, gasoline and petrochemicals.
In the report, the advisors called for freezing energy prices temporarily to slow inflation, which is running at more than 55% annual, and ease the strain on families at a time when the poverty rate is running above 35%. They also called for unlinking oil and refined product prices from dollars, given that most of the production is domestic.
"There is no reason why consumers should pay the same value that is paid in countries that do not have resources," they said.
The proposals still have to be accepted by the candidate, who also has yet to win the election, but they have caused a stir in the industry.
Ricardo Arriazu, an economist, warned Thursday at a conference in Cordoba, Argentina, that if the rules for investing in the oil sector are changed so drastically with price freezes, that could deter investment to develop the play, slowing production growth.
To be sure, investment has slowed in Vaca Muerta since President Mauricio Macri, a conservative, implemented a 90-day crude, diesel and gasoline freeze in August after a run on the peso. As a result, the number of frac stages in Vaca Muerta fell 25% in September from the previous month, according to data compiled by Houston-based services company NCS Multistage.
Even so, the proposals from Fernandez's advisors call for developing Vaca Muerta, one of the world's biggest shale plays, over the long term, the same strategy that Macri is pursing.
The change, however, could stem for a proposal by Fernandez's advisors for YPF, the state-backed oil company, to be made "the main player" in Vaca Muerta, according to the proposals, which did not say how this could play out.
Vaca Muerta, one of the world's biggest shale plays, is leading a recovery in the country's oil and gas production after more than a decade of decline left it with shortages and a surge in imports.
Argentina is now running a surplus again, boosting expectations of a surge in exports. The Energy Secretariat has forecast that oil and gas production could double to 1 million b/d and 260 million cu m/d in 2023 from this year, allowing exports to surge to 500,000 b/d and 80 million cu m/d over the same period from around 60,000 b/d and less than 10 million cu m/d this year.