As Brexit countdown approaches, Galicia fishing industry concern increases
Saturday, October 12th 2019 - 09:55 UTC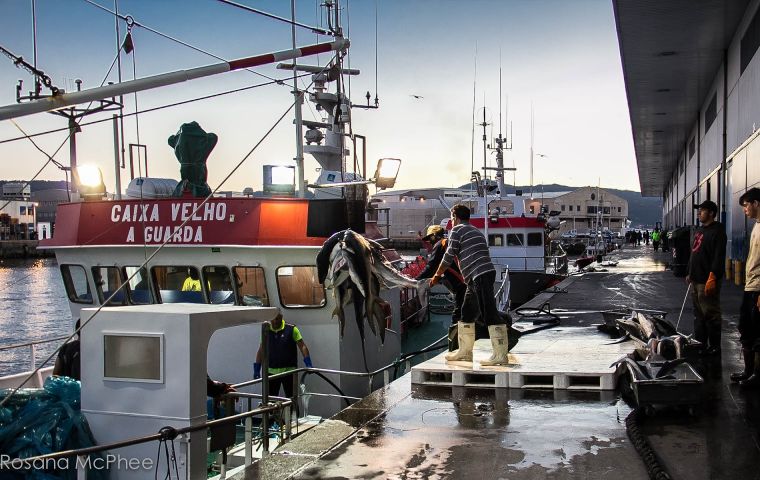 No Galician fishing vessel operating in the Falkland Islands will have access to European funds specially earmarked for those temporarily inactive, whether they fly the red ensign of the Spanish flag.
The statement is from Javier Touza, president of Vigo vessel owners cooperative, and this is because the EU understands that the 24 Spanish flagged vessels licensed to operate in the Falklands are based on private sector agreements.
Thus they will have no access to compensation for stoppages emerging from Brexit, when UK leaves the EU, supposedly at the end of the month, and those vessels allegedly will be expelled from Falklands' UK sovereignty waters.
However regarding the 89 Spanish flagged fishing vessels operating in the Grande Sole to the west of the British Islands, Touza is not sure how many are entitled to the special stoppage funds
"Probably a third of the fleet which significantly operates in UK waters, could receive some sort of benefit", said Touza, recalling words of Spanish Agriculture, Food and Fisheries minister Luis Planas
Anyhow Touzas said that in the event of a "hard" Brexit the fishing industry in Galicia faces a "chaotic scenario" and massive losses, plus the search for alternative fisheries with all the diplomatic complications that will mean. Not to mention Galicia shipyards, which are dedicated mainly to fishing vessels and the all the subsidiary companies.