Brazil following closely the Vatican does Synod fear bad international press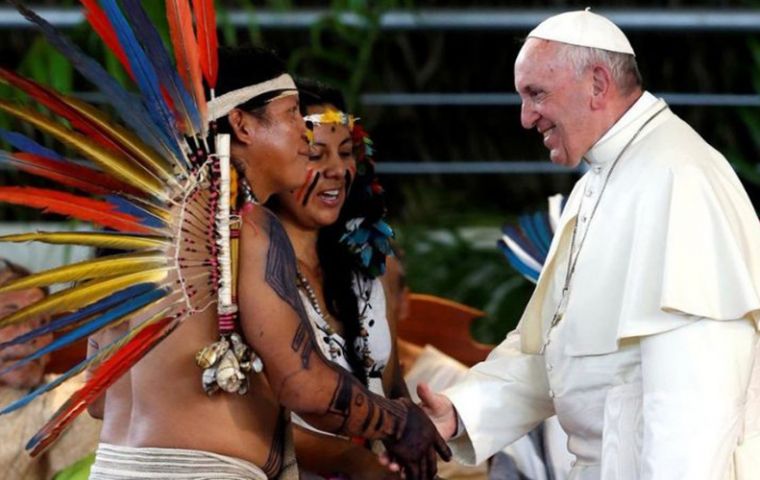 A Brazilian diplomat said last week that the administration of President Jair Bolsonaro doesn't fear the Synod of Bishops for the Amazon taking place this month at the Vatican, but that the Catholic bishops "involuntarily reinforce the campaign of the European lobbies, who are very afraid of the competition of Brazilian agriculture."
Brazil's secretary of Bilateral Negotiations in the Middle East, Europe and Africa, Ambassador Kenneth Haczynski da Nóbrega, told the Portuguese news agency Lusa that the "Brazilian government looks favorably on the realization of the Synod for the Amazon," which is "part of the pastoral mission of the Church" and is "in accordance with the agreement established between Brazil and the Holy See that guides the activities of the Church in Brazil."
"We recognize in the Church a relevant role in the formation of the Brazilian society and the Church's active option for the poor is the object of our great appreciation," said Nóbrega, who worked with the Vatican during the preparation for the synod.
"The question is the repercussion in the press [of the] environmental activism. I'm not saying they [the Catholic bishops] are doing it on purpose, but actually the risk is that they involuntarily reinforce the campaign of the European lobbies, who are very afraid of the competition of Brazilian agriculture," the ambassador continued.
"We fear that this lobby, which doesn't distinguish what is sustainable and what is not, which wants us to stop exporting to them [Europe], could be strengthened by the well-meaning activism of the Church, which could serve this cause [and] be instrumentalized," Nóbrega told Lusa.
Some members of the Bolsonaro administration viewed the preparatory work of the synod and the Catholic Church's environmental activism as connected to these international trade disputes.
Since February, high-profile members of the government declared their concerns about the Church's possible "interference" in Brazilian national affairs and sovereignty. General Augusto Heleno, Bolsonaro's minister of the Institutional Security Office, even confirmed that his intelligence agency was "monitoring" the organization of the synod in Brazil.
For Nóbrega the negative international reactions to Brazil were due to "fake news" about the Amazon.
"An atmosphere of mistrust was created [in the government] concerning the international debate over the Amazon (…) When the president of a country such as France says it's necessary to internationalize the debate, alarm bells start to ring," the ambassador told Lusa.
But Nóbrega said the Bolsonaro administration is "calm" about the synod itself. "The conclusion [of the synod] will have a pastoral and social nature. They will not incite any kind of international politics," he claimed.