Women's rally in Argentina ends with attacks on churches and a "boob protest"
Wednesday, October 16th 2019 - 18:24 UTC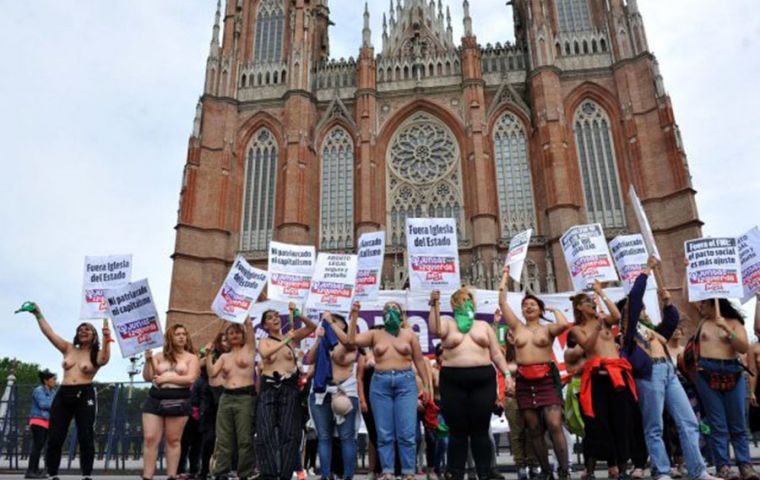 A rally happening during Argentina's annual "National Encounter of Women" on Sunday included a topless protest ("Tetazo) against the cathedral of La Plata, the city hosting the event this year. The rally, organized by Argentina's leading leftwing party, wasn't officially supported by the organizers of the women's event.
As in previous years, participants at the rally threw Molotov cocktails and human excrement on churches. This year the rally focused on calls for the separation of church and state.
Shirtless women - calling the protest a "tetazo," or "boob-protest" - shouted slogans such as: "Abort your heterosexuality," "'death to the macho' is not a metaphor," "the only church that illuminates is the one on fire," "lesbianize yourself," and "free, legal and safe abortion."
According to local reports, one of the most popular chants this year was a profanity-laden insult against Christ the King. Later in the day, the same group left the women encounter's official rally to go back to the cathedral to start another protest, which included throwing incendiary devices at the building, which was being guarded by 100 female police officers.
Days before the Oct. 12-14 meeting, some of the participants distributed posted images on social media calling for "the destruction of everything," under the slogan of "I will never be police."
The women had gathered in La Plata, some 45 kilometers from downtown Buenos Aires, to take part in the 34th edition of the women's encounter.
Next year, the leftwing event will be renamed the "Plurinational encounter of women, lesbians, trans, transsexuals, bisexuals and non-binaries." The "Plurinational" is to reflect the fact that indigenous women from different ethnic groups take part in the encounter.
The three days of meetings included workshops on "women and cannabis," "women and sexual work," "women and deconstruction of feminized bodies," "women, pleasures and free time," "women, political militancy and resistance," "women and unemployment," "feminization of poverty," and "women and bisexuality, pansexuality and polysexuality."
Days before the encounter, Archbishop Victor Manuel Fernandez of La Plata, often labeled as one of Pope Francis's ghostwriters, urged Catholics not to personally defend church buildings and to leave that job to the police.
"There are people with fear, including members of the security forces, politicians and neighbors, as if a horde thirsty for revenge and destruction was coming," Fernandez wrote in La Nacion, one of Argentina's leading dailies. "But they are women, of many colors, with different ways of defending their rights, and also with differences between them. They are joined by the dream of true equality, and anger is understood when history is remembered - centuries of oppression, humiliation, sexist domination, violence."
Noting that sometimes the anger is concentrated against the Church, the archbishop said that the institution needs some "self-criticism" on this issue.
Those who want to harm and destroy churches and public properties, he argued, don't represent the majority of the women taking part in the event. Regardless, Fernandez wrote, "those of us who have failed to assume the legitimate claims of women as our own will simply have to open our ears. Welcome those who come to enrich the public debate."