UK assurances to the Falklands in the event of a "no deal" Brexit
Friday, October 18th 2019 - 10:59 UTC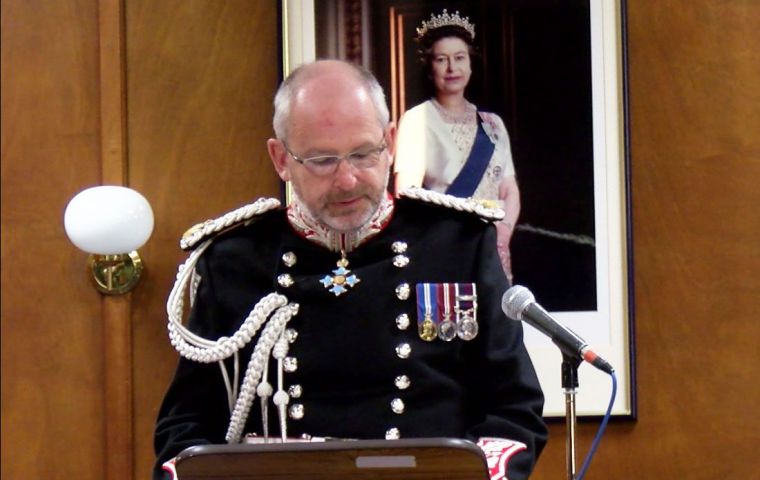 In the event of a 'no deal' Brexit the UK Government assures it will, "seek to negotiate the best possible access to the EU market for Falklands fish and meat products as part of the future relationship with the EU."
Speaking to Penguin News on Thursday this week His Excellency the Governor Nigel Phillips outlined a number of key messages from the British Government to the Falklands. Also present were MLAs Mark Pollard and Ian Hansen.
In recent days the UK Prime Minister has been negotiating with the EU for a revised withdrawal agreement. It has also been preparing for a no deal Brexit, "should that come to pass" outlined Mr. Phillips.
He said the messages were to let people know what factors would be in place in the event of a no deal, "so there is more certainty rather than uncertainty."
He outlined the points saying "If a deal is not agreed between the EU and the UK and the UK exits the EU then the no deal preparation comes in to place as follows:
Funding
The UK Government will guarantee EU-funded projects under EDF, BEST, Horizon 2020 and Erasmus+ that have been agreed before exit day for the lifetime of those projects if the EU ceases payment. This provides more certainty for project participants over the course of Brexit.
Market Access
Falkland Islands exporters are assured that UK market access for Overseas Territories (OT) goods on current tariff-free terms will continue. The UK Government will be working to negotiate the best possible EU market access for OT goods.
Citizens Rights
The rights of British Overseas Territories Citizens passport holders will not change as a direct result of Brexit.
British Citizen passport holders resident in the OTs will have no fewer rights to access the EU than British Citizen passport holders in the UK.
Constitutional Relationship
The UK's long-standing historical links and constitutional relationships with the OTs remains the same: Brexit in no way alters the fundamental of this.
FICMO and FIFCA
The UK Government will seek to negotiate the best possible access to the EU market for Falklands fish and meat products as part of the future relationship with the EU.
It is recommended that FIMCO identify the key UK stakeholders for Falklands lamb and reassure them that a 'no deal' poses no threat to their supply.
Discussions between FIG and UK Government
Due to informed discussions between FIG and the UK government well informed of the Falkland Islands position and its aspirations.
When asked about potential medicine shortages as a result of a no deal MLA Hansen assured the Department had looked at different place to get medicines from including Turkey and South America and that was ongoing and "looking quite positive." and "it really doesn't look as though we shouldn't have any shortages, but I can't guarantee that..."
MLA Pollard said "we are not tied into the UK's broader supply chain we can find our own solutions to issues like this." (PENGUIN NEWS) .