Two NASA astronauts make history as they complete the first spacewalk by an all-women team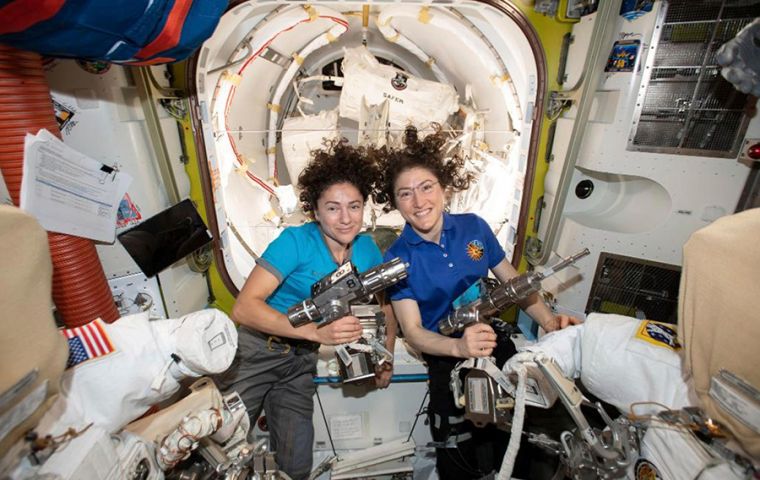 A giant leap for womankind! Two NASA astronauts made space history on Friday as they completed the first-ever spacewalk by an all-woman team. The historic extravehicular activity (EVA) officially began once both astronauts switched to battery power in their spacesuits, was guided by veteran NASA astronaut and capsule communicator (CAPCOM) Stephanie Wilson on the ground and fellow astronauts Luca Parmitano and Andrew Morgan located on the International Space Station.
Friday marks Koch's fourth spacewalk and Meir's first spacewalk. Koch led the EVA and can be identified by the red stripes on her spacesuit and life support backpack. Meir arrived at the space station in September, and both Koch and Meir joined NASA's astronaut corps in 2013.
Their astronaut class, nicknamed the "Eight Balls," had the highest percentage of women of any group of astronaut candidates to date.
This is the 221st spacewalk in support of the space station's maintenance and assembly. Since cosmonaut Svetlana Savitskaya became the first woman to do a spacewalk in 1984, women have participated in 42 spacewalks. Of the 15 women who have done spacewalks, 14 have been NASA astronauts. Koch is on track to make history again in December as she gets closer to setting a new record for the longest amount of time continuously spent in space by a U.S. woman, beating former NASA astronaut Peggy Whitson's former record of 288 days.
During Friday's spacewalk, the two astronauts received a call from the White House. While speaking to Donald Trump, Meir said that "we hope that we can provide an inspiration to everybody, not only women, but to everybody that has a dream, that has a big dream, and who is willing to work hard ... this is my first flight and my very first spacewalk, so it is a pretty incredible feeling I'm sure you can all imagine, and it's one I will never forget."
On the call, President Donald Trump said to Koch and Meir that "I just want to congratulate you. You're both very brave, brilliant women, and you represent this country so well ... we are very proud of you ... what you do is really something very special. So first the moon, and then we go to Mars. Thank you both."