Argentine president Macri tells a massive rally in Buenos Aires the election result can be turned around
Sunday, October 20th 2019 - 09:38 UTC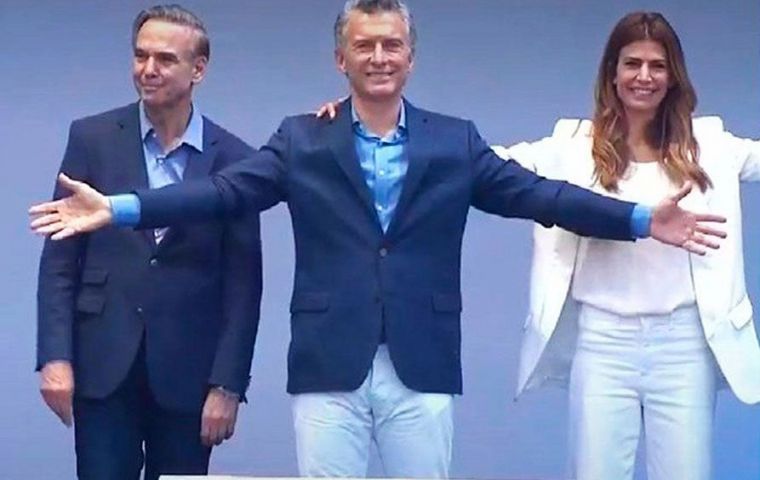 Argentine President Mauricio Macri called voters on Saturday to get behind him ahead of presidential elections next week in a massive rally called the "March of the Million", held in downtown Buenos Aires next to the obelisk and in the widest avenue of the city, 9 de Julio.
Huge crowds gathered in the spring sunshine carrying Argentine flags and "yes we can" banners. The event was one of a series of Macri campaign rallies around the country as he looks to defy the odds and rein in Peronist challenger Alberto Fernandez, who beat him heavily in a primary vote in August.
The strong turn-out underscores Macri's popularity in the relatively affluent capital. But opinion polls indicate voters overall want to oust the center-right leader in the Oct. 27 vote after being hit hard by economic turmoil.
Pollsters show center-left Fernandez some 20 percentage points ahead of Macri as the election looms, after he won by around 16 points in the primaries. A candidate needs 45% of the vote, or 40% plus a 10-point lead, to win outright in the first round.
Macri called on voters to help him turn the election around and said all was not yet lost.
"It's not just any election, it is an election that defines our present and our future for many, many years," Macri told the crowds, accompanied on stage by his wife and his vice presidential candidate Miguel Angel Pichetto.
"We have to tell all our friends who may still be angry, may be doubting, that we need them to turn around the election"
Macri, who came to power in 2015 promising market reforms, open-door trade policies and strong investment, has been scuppered by a string of debt and currency crises that pulled the country into recession and sparked fears of default.
The turnout was estimated according to the media between 350.000 and 450.000, an impressive number, but such political rallies are not unusual in Argentine history and the city of Buenos Aires, is friendly territory, since the city has been clearly anti Peronist and Macri was mayor prior to the presidency.
Plus a sea of Argentine flags, militants also displayed banners and T shirts with the slogan "Yes we can", but also with the hopeful, "Mauricio can turn the election around". Macri reached the stage at the obelisk walking next to his wife Juliana and his ticket companion, Pichetto,
There was nothing substantial in Macri's speech, the only speaker, and it was mostly a call to go out to vote and defend all that has been achieved so far, but for which another four years are needed.
At the climax of the rally Macri started making questions and waiting for the roaring approval answers, referred to honesty, education, jobs, world integration, combating drug cartels and local mafias, public works corruption, Judicial branch independence, all of which have been identified as the great shortcomings of the previous Cristina Kirchner eight years in office. It ended with people chanting, "Justice", "justice".
Finally there was also time for pranks. Macri said that his opponents now call him the cat. "I can live with that, I'm more than happy, it makes me feel younger. Besides with my beautiful wife and Juan Angel, now I have nine instead of seven lives".
Argentine channels interviewed some of the militants at the end of the rally who said they were going to vote for the reelection of Macri because democracy and the future of our children are at stake. "We can't stand another four years of Cristina and her thugs who bankrupted Argentina and stole everything they could get hold off".
Others said they wanted to "live in freedom and in a republic with Justice and free of corruption", and "please point out that we came to the rally on our won, we weren't bussed with the promise of a sausage sandwich and ice cream, as is how Kirchnerites work".