Macri comes ahead in Argentina's second presidential debate, but will it be enough?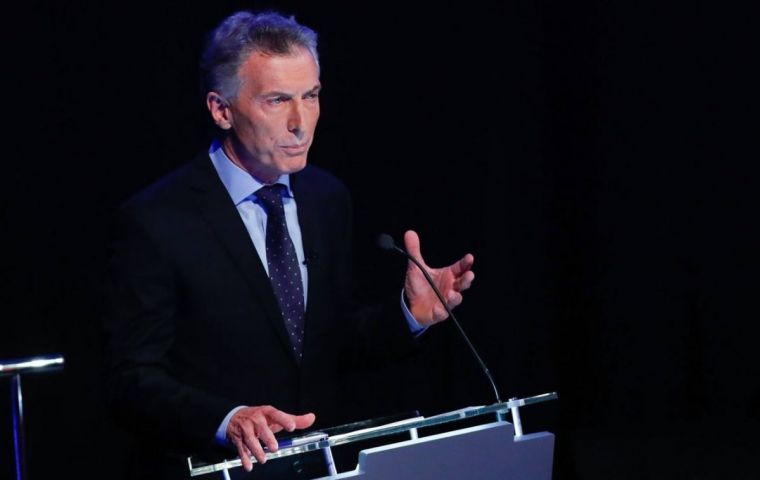 Argentine president Mauricio Macri and the leading opposition candidate Alberto Fernandez exchanged blows and strong accusations during the second and last debate before next Sunday's election
The debate with six candidates took place at the Law School of the Buenos Aires University Sunday evening, lasted two hours, and was made up of four segments, including, Security, Employment, Production and Infrastructure, Federalism, institutional quality and social development.
Contrary to the first debate a week ago in Santa Fe when Fernandez was considered the winner, this time it was Macri who had the upper hand particularly since the opposition leader, who opinion polls indicate as the next Argentine president, was on the defensive given the cascade of attacks referred to government corruption when he was cabinet chief during part of Nestor and Cristina Kirchner administrations.
However what most concerned political analysts and commentators on national television was the fact that given the unstable financial situation of Argentina, the two candidates that have polarized the presidential competition, when the debate was over and all hopefuls shook hands politely, Macri and Fernandez deliberately ignored each other and apparently during a half break exchanged harsh words.
In effect since the next government takes office on 10 December, with or without a runoff in November, and the fact that Fernandez has at least a 16 point lead over Macri in the opinion polls, the big question is how can a civilized, rational transition can be ensured, recalling that back in 2015, outgoing Cristina Fernandez did not even hand the presidential sash and baton to incoming elected Mauricio Macri, an idea of how tense relations were. So a month and a half long of instability in markets should not come as a surprise if the two sides can't agree of some sort of understanding.
Macri encouraged by a major rally in Buenos Aires City on Saturday with an estimated 450.000 people attending, accused Fernandez and the Kirchnerite governments he served as corrupt to the extent of favoring an open borders policy for drug cartels and terrorist groups, while limiting the powers of police to intervene. "We care about the victims and their families, Kirchnerism cares about criminals", said Macri adding that drug and criminal gangs activities have dropped dramatically under his administration.
Fernandez accused the Security minister of Macri of being "trigger happy" and promoting police violence and hounding of youngsters, and insisting that what has to be combated is not the consequences but the causes of criminality, and that is a divided society with so many poor, hungry and unemployed.
In similar tone the two candidates clashed over the media, freedom of expression, and official stats on poverty, inflation, unemployment, which Macri said was now known and reliable, thanks to transparency implemented during his government, while "it was under Fernandez, cabinet chief, the stats office was intervened to hide and manipulate figures".
Other presidential candidates also accused Fernandez of alleging he ignored the systematic corruption under Kirchnerism. "For three years your office was next to that of the president and you were never were aware of what was going on?" Fernandez replied he could teach the Macri family decency, since he stepped down from government on disagreements with then president Cristina Fernandez, and no judge or court has ever summoned him.
"This is not the case of Macri or his father, Franco, who took advantage of their positions and once he steps down from government he has over a hundred court summons waiting for him, for benefitting and privileging his family business dealings".