Argentine markets concerned about what happens on Monday 28 October
Thursday, October 24th 2019 - 09:55 UTC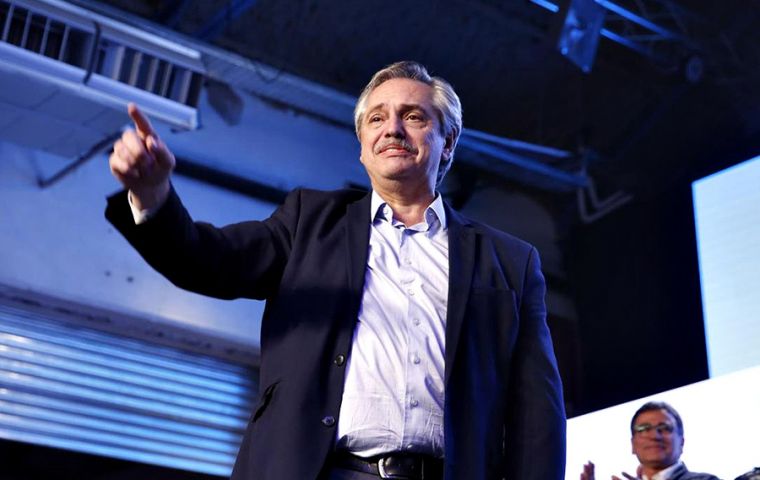 Argentine markets are set for another bout of nerves after the country holds a presidential election on Sunday, likely to confirm defeat for business-friendly President Mauricio Macri.
Macri, who came to power in 2015 pledging to open up Argentina's markets and attract overseas investment, lost by a massive 16 points in August primaries, sparking the worst rout of the country's markets in decades. The peso crashed 17.6%, bonds tumbled 19.6% and the local stock market lost 31.3% in the week after the primary.
Markets recovered slightly after capital controls were imposed in early September, and have calmed down as traders wait on the sidelines reading the political runes. But the 27 October vote could unleash volatility once more.
"The market will become erratic on Monday as it watches for Fernandez's cabinet to be named and the direction of his economic policy," said Jose Echagüe, a Buenos Aires-based strategist at Consultatio Investments.
Most economists feel that if Alberto Fernandez wins and in effect signals anti-market policies, bonds and unofficial peso rates could suffer again. So far Fernandez has not named possible ministerial candidates and has said he will respect deposits, bonds and overall debt, foreign and domestic. However this will mean a "re profiling" of hard currency debt and negotiating fresh funds to help re-launch the economy.
Besides, Fernandez who is a criminal law professor and has been involved in politics for decades, has as running mate for vice president, populist ex-leader Cristina Fernandez de Kirchner who actually picked him as presidential candidate, and she is the "owner of the votes".
The steep primary victory and recent opinion polls tendencies suggest Fernandez would win enough votes in the October election to sweep his party into power without needing a second round runoff in November. He would need 45% of votes, or 40% and a 10-point lead over Macri.
In the short term, the focus is on how Fernandez would deal with the International Monetary Fund (IMF) and other creditors, after the country was forced to delay payments on around US$ 100 billion of local and foreign debt. He will desperately need to create confidence in his administration and policies.
Falling into default would be hugely damaging for Latin America's third largest economy, making it once more a pariah of global investors and shutting off important funding channels.