Uruguay votes on Sunday with a strong forecast change in the air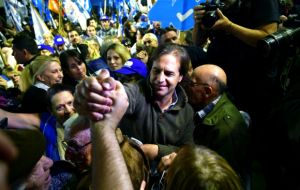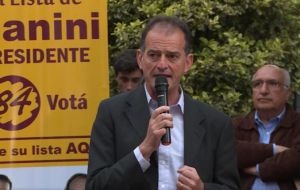 Uruguayans head to the polls on Sunday to elect a new president, 30 senators and 99 Lower House members. If none of the eleven presidential candidates manages 50% of cast votes plus one on 27 October, a runoff between the two hopefuls with most support is scheduled for 24 November.
Uruguay is the most politically stable country in Latin America and most democratically committed as repeated independent opinion polls have revealed, but now for the first time in fifteen years with the commodities boom tailwind over (except for meat because of the African swine disease in China), change is in the air.
The catch all coalition Broad Front, with an arch extending from former radical hotheads to the Christian Democrats, in office for three consecutive mandates and enjoying Legislative majority, is facing a new challenge: economic growth is flat exposing that unemployment is up, deficits are accumulating and the government of president Tabare Vazquez and his Economy minister Danilo Astori have run out of ideas and/or initiatives to face the situation.
Of the raft of hopefuls to replace Vazquez (no immediate reelection in Uruguay), two outstand, the incumbent candidate, Daniel Martinez, a Socialist industrial engineer, dull debater and with an extremely poor management record in government posts, be it as minister, head of the country's oil refinery and fuel distribution company, Ancap, and even as mayor of the capital Montevideo.
But behind Martinez is the powerful machinery of the Uruguayan state and its many companies, packed with 70.000 new government employees, and in tight carrot/stick surveillance of media through generous publicity.
The main leader of the opposition is Luis Lacalle Pou from the National party, a 46 year lawyer and lawmaker, in his second bid for president. He sounds more solid, with greater appeal, but with a brush of conservative coating, not sufficiently convincing for the average center left Uruguayan voter.
Anyhow, Uruguayan opinion polls which have been out of their marks, as in most of the rest of the world, indicate that Martinez and Lacalle Pou, will most probably make it to the November runoff. Tendencies indicate that Martinez support ranges from 36 to 38%, while Lacalle Pou, 28% to 30%, far from the 50% plus needed on Sunday.
This has two main implications, with eleven parties competing and five to seven with chances of gaining parliament representation, some sort of coalition, overall or on specific on subjects will have to be worked out. In other words the next government will not enjoy the legislative majority which helped the Broad Front pass many bills without a minimum consensus from the opposition, in certain vital areas.
Likewise with 30 senatorial benches, roughly 3% of estimated votes are needed for one Senator, meaning that if any party manages some 42% to 45% of ballots in the first round it could achieve a majority, 15 benches plus the vice president who acts as 31st. This happened in the previous three elections when the Broad Front obtained above 46% of votes cast and thus an absolute majority in the Senate.
Something similar can be said of the Lower House, with posts awarded in each of 19 electoral circuits under a strict proportional representation system, starting with a minimum of two. Since the capital Montevideo and the immediate circuit, Canelones, concentrate well over half of the national electorate, and are strongly supportive of the Broad Front it is possible that the Broad Front can still manage a simple majority in the Lower House.
Admitting a November runoff, what are the alliance chances. With 40% of the vote, Martinez could count with some of smaller radical parties support, and even from dissidents from the major ones. While Lacalle Pou could start working a ruling coalition with the backing of the Colorado party, the Cabildo Abierto and even two smaller groupings. All of them mathematically added could reach the 50% target, but here again how rigorously reliable are Uruguayan opinion polls, and history has shown that in runoffs not all voters act or cast ballots as expected.
So it's an open race and even more significant than reaching the 50% plus one in the runoff, is the 42/45% in the first round that can ensure an absolute majority in the Legislative.
Said this it must be added that there is an incipient electorate dissatisfaction with the Uruguayan political system or its workings, despite its commitment to democracy, and which has been clearly expressed is something totally new in the country's politics. The emergence of the so called Cabildo Abierto party, "Open Forum", founded by a former Army chief General Guido Manini Rios, who was sacked over differences with Vazquez. In a few months with scarce funds it already commands some 10/12% of vote intention, and growing, and competing with third placed Partido Colorado, one of Uruguay's founding parties or so called traditional parties going back to the early years of the country's independence.
Open Forum supporters are considered traditional voters, demanding a strong hand against crime and disorder in society, members of the so called "military family", but also from the conservative wings of the historic parties, plus the mostly disenchanted with the political system, including from the Broad Front.
If polls are close to reality, Manini Rios could have at least four seats in a hung Senate, with the key to approval of legislation.
Finally although Uruguay has avoided the financial crises and recessions that have gripped neighboring Argentina and Brazil it is under strain from unsustainable deficits that threaten its investment grade rating. The overall deficit reached some 5% of GDP this year, according to finance ministry data, up from 0.9% in 2005, when the Broad Front first took office. This is equivalent to some US$ 2.5bn short or credit request.
Besides growth this year is expected at a miserly 0.5% or less, the unemployment rate reached 9.1% at the end of August, up from around 7.1% when Tabare Vazquez started his second presidential term in 2015, and education stats show that only 43% of Uruguayans finish high school.
And equally important the Broad Front has also struggled to address rising crime with the murder rate climbing to 11.8 per 100,000 last year, more than double that of the United States. Precisely this issue has triggered a referendum on security, which includes controversial night raids, and will be put to a vote on Sunday.
There are some 2.7 million registered voters in the country, and casting ballots in mandatory. The elected president will take office on March first 2020