Falklands interested in raising awareness of the Islands in UK, particularly new generations
Friday, November 1st 2019 - 18:01 UTC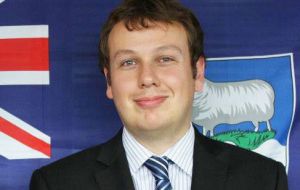 The Falkland Islands elected government are interested in raising the awareness of the Islands in the United Kingdom particularly among new generations. The issue was brought up during the Legislative Assembly discussions by MLA Stacy Bragger.
"A lot more public diplomacy focusing on the UK is what the Falklands needs", said MLA Bragger, who invited MLA Leona Roberts to outline current work the Falkland Islands government was undertaking to raise awareness of the Islands in the UK.
MLA Bragger said he and his colleagues felt the focus needed to improve.
"I don't think progress has been as fast as we would have liked on this. I think there is an awful lot more we can do.
"There has been a fair amount of coverage in the UK over the last year mostly focused on Brexit which is obviously something that we need to highlight. But I think in terms of giving people in the UK an understanding of what it is to be a Falkland Islander... I don't think we are doing enough."
MLA Bragger indicated that young people, now in their teens and twenties know next to nothing and "we haven't given them a reason to be interested in the Falklands..."
He said if we don't give them a reason why we are important, "we will suffer. I don't think this is something we can afford to be complacent about." (PN).