Falklands undertakes a major review of fisheries policy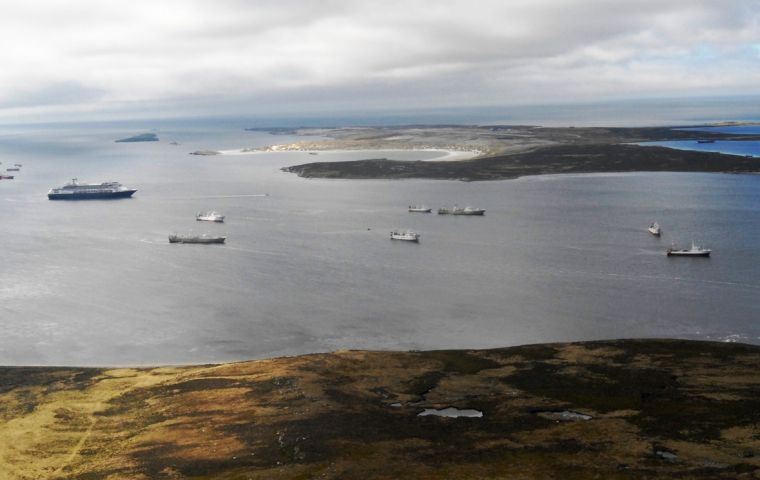 A major review of the Falkland Island fisheries establishes a strong foundation, building on what has already been achieved. Executive Council (ExCo) has adopted a number of recommendations from a review carried out in 2018 by New Zealand consultants Terra Moana, of the Falkland Islands' Individual Transferable Quota (ITQ) system.
Our ITQ fisheries contribute between one-third to one-half of the annual gross domestic product in the Falklands and are a major driver of prosperity, helping to improve the quality of life enjoyed in the Falkland Islands.
Fishing also contributes between 25-33% of Falkland Islands Government annual revenue. Fisheries portfolio holder MLA Teslyn Barkman says "that given its key role, it was the right time to carry out a review."
"Members have adopted a number of the changes suggested, while recognising some will require considerably more work."
The review looked to further strengthen conservation and regulation, and addressed four overarching issues:
• ITQ duration and its renewal.
• Improving economic performance and management of the mixed finfish fishery.
• Incentives to enhance Falkland Island ownership and control of the seafood sector.
• Entry of Illex into the ITQ system.
MLA Barkman explains that one of the most important long-term changes is the development of a Fisheries Accord to provide greater certainty for the sector, the community, and for FIG. The Accord will be supported by a published Action Plan agreed between FIG and Falkland Islands Fishing Companies Association (FIFCA) members.
The five strands of the Accord build a competitive and successful sector, ensure healthy oceans, care for the environment, protect the workforce and care for the community through skills, business opportunities, and a positive social contribution.
"Also agreed by ExCo is that FIG will develop a process to allow early renewal of ITQ, allowing companies to apply for an additional 15 years in 2021, ten years ahead of planned ITQ expiry. Renewal will require joint venture companies to demonstrate at least 51 per cent Falkland Island ownership, as well as adherence to the Fisheries Accord, amongst other criteria."
Other changes include agreement in principle to move the finfish fishery to a catch-based system, and strengthening catch to 100 per cent verification over time.
An implementation plan will be brought back to ExCo for further consideration at a future date, while a proposed five-year action plan will implement the Accord and be reported back on publicly every two years.
"With fisheries a backbone of our economy, it's essential we get this work right," says MLA Barkman.
The full report to the Executive Council can be viewed at http://www.fig.gov.fk/assembly/public-papers/executive-council-papers/send/409-11-30-october-2019/2590-137-19p-itq-review-2019-recommendations-for-implementation