Remains of 115th Argentine combatant buried in Falklands have been identified
Friday, November 15th 2019 - 09:56 UTC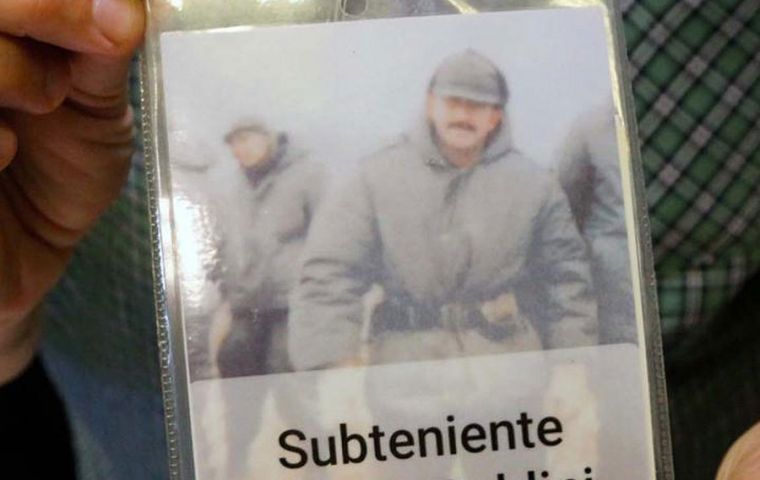 The Argentine Human Rights Secretariat announced the identification of the 115th combatant whose remains are buried in the Falkland Islands Argentine military cemetery at Darwin.
Lieutenant Juan Domingo Baldini, joined the Army Military College in 1976 and concluded his schooling in 1979 as an Infantry Sub Lieutenant. He was posted the Army 7th Infantry Regiment from La Plata. He was born in Buenos Aires on 13 February 1958, and died at Mount Longdon battle on 11th June 1982, according to the report from the Human Rights Secretariat.
Baldini was identified thanks to DNA samples from is cousins, who live in Italy, as part of the Humanitarian Plan agreed between UK and Argentina and with the consent of the Falklands Government, under the supervision of the International Committee of the Red Cross. The Plan with the help of an international team of anthropologists has been able to identify now 115 remains of the 121/122 graves which only had a black marble stone saying, "Argentine soldier, only known to God".
Since the implementation of the humanitarian initiative next of kin of the identified Argentine combatants have been able to travel to the Falklands, visit the new graves and mourn their loved ones. A long due debt with the relatives and Malvinas veterans, since 37 years have gone by since the 1982 conflict.
Boldini, the 115 combatant identified, was awarded post mortem the Argentine Nation Valor in Combat Medal, and promoted to Lieutenant, said the release from the Human Rights Secretariat, headed by Claudio Avruj.
"We are extremely happy to announce a new identification in the framework of the Humanitarian Plan, which is an example for the world. When we took office four years ago we assumed with the relatives of Malvinas heroes this ethical and moral commitment, and we can say that we that have delivered", Avruj said
"We continue to advance in this humanitarian task which helps us to heal wounds and extend answers from the State to the next of kin of our Malvinas Heroes", concluded the brief release.
If the number of unidentified remains at Darwin's Argentine military cemetery was effectively 112, this means that only seven graves are still waiting to be given a name.