US/UK scientific team on major mission to the Thwaites Glacier in West Antarctica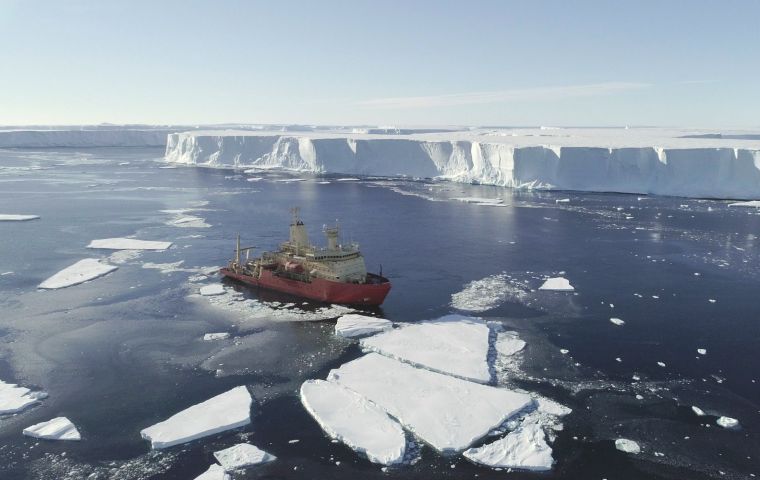 Nearly 100 scientists and support staff departed this week for the most ambitious mission to date for Thwaites Glacier in West Antarctica.
In the second year of the International Thwaites Glacier Collaboration (ITGC), researchers from the United States and United Kingdom will work in one of the most remote and inhospitable areas on Earth. It's a five-year quest to understand the glacier and surrounding ocean system and its future contribution to global sea level.
Thwaites Glacier, covering 192,000 square kilometers —an area the size of Great Britain—is particularly susceptible to climate and ocean changes. Over the past 30 years, the amount of ice flowing out of the region has nearly doubled. Computer models show that over the next several decades, the glacier may lose ice even more rapidly, as ice retreat progresses. Already, ice draining from Thwaites into the Amundsen Sea accounts for about four percent of global sea level rise. A collapse of the glacier would lead to a significant increase in sea levels of around 65cm over the coming centuries.
Professor David Vaughan, Director of Science at British Antarctic Survey and lead scientific coordinator for the ITGC in the UK says: "I've been working in Antarctica for over 30 years and for many years we've known that Thwaites Glacier holds the key to a much better understanding of sea-level rise. This is our first chance to get a deeper understanding of this unknown yet important glacier.
"Due to its remoteness, fewer than 100 people have ever set foot on Thwaites Glacier. So what we're planning is hugely ambitious and challenging. This joint UK/US effort will make a real difference to our ability to provide governments with the right information for policy and business actions that will help protect coastal cities, ecosystems and vulnerable communities in the future."
Thwaites Glacier is extremely remote; the study sites on the glacier are more than 1,600 kilometers away from both the BAS Rothera Research Station and the US Antarctic Program's (USAP) McMurdo Station. Getting scientists and support staff to the field sites involves transferring people and equipment through multiple camps as staging bases using caravans pulled by giant tractors and several different types of aircraft fitted with skis for landing on the snow.
The ITGC research teams departed for Antarctica this week with fieldwork taking place until March 2020. Most researchers will travel through the US McMurdo research station, and then eastward to camps located near the Antarctic coast.
ITGC is a five-year, US$ 50 million joint US and UK mission to learn more about Thwaites Glacier, its past, and what the future may hold. Significant contributions to the research are also coming from Sweden, Germany, and South Korea. The ultimate goal of the project is to predict how much Thwaites will contribute to global sea-level rise, and how soon a transition to more rapid ice retreat might occur. ITGC is funded by the US National Science Foundation (NSF) and UK Natural Environment Research Council (NERC). (BAS)