Uruguay election runoff: "Game over, I'm the boss", Mujica tells the incumbent candidate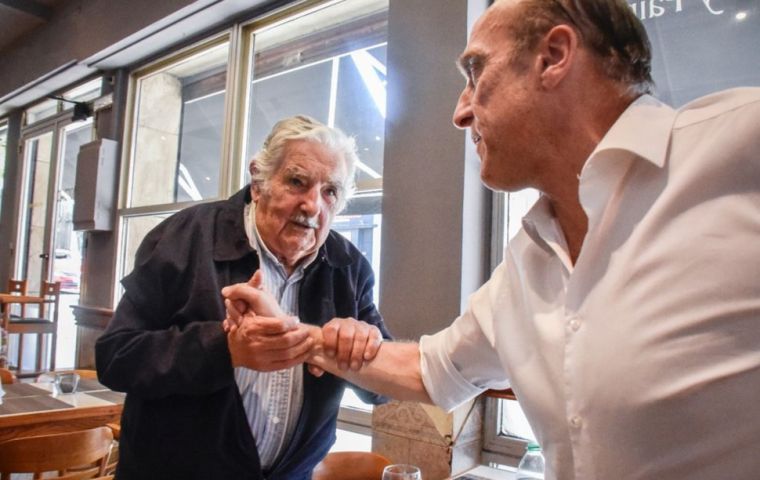 Next 24 November Uruguayans will cast their runoff ballot to elect the next president, scheduled to take office in March 2020. The dispute is between the two winners of the first round on 27 October, the candidate from the ruling coalition that has enjoyed fifteen years in office, and the leader of the opposition who has managed to conform a working "multicolor" majority in the next Legislative, and is ahead in opinion polls tendencies.
Daniel Martinez is an engineer, ex mayor of the city of Montevideo, was a Senator, Minister of Industry and Energy, and head of Uruguay's fuel refining and distribution monopoly ANCAP, which because of some wrong decisions, and together with another head of the company, Raul Sendic, almost managed to bankrupt it, forcing the recapitalization of the company with US$ 1.2bn, plus exorbitant fuel fares to patch losses, the highest in Latin America.
Martinez belongs to the Socialist party, a member of the catch-all coalition that rules Uruguay since 2005, but the party is divided and only managed one hard line Senator, in opposition to the softer approach of the presidential candidate.
Lawmaker and lawyer Luis Lacalle Pou, 46 is the leader of the conservative National party, son of a former president, Luis Alberto Lacalle Herrera (1990/1995) and now leads the multicolor opposition coalition.
Last 27 October the ruling Broad Front obtained almost 40% of votes cast, while the National Pary 29%, and thus Martinez and Lacalle Pou will be disputing the presidential seat. However, Lacalle Pou, last month, immediately worked out with other junior opposition parties the 'multicolor' coalition ahead of November 24. The coalition is made up of 17 out of a 30-seat Senate, and 57 out of 99 members of the Lower House.
This was possible among other things because for the first time, contrary to what happened in 2005, 2010 and 2015, the Broad Front lost its majority in the Legislative and an estimated one of five voters. Call it voters' demand for alternance and an end to many promises and dreams that went unaccomplished. The fact is the disappointment of the electorate was to intense that in six months a new party was born, Open Assembly and collected 11% of votes, just behind the third placed Colorado party with 12%. It is headed by a former Army commander in chief, which gives an idea where some 11% of the Uruguayan electorate stands.
And Martinez committed many mistakes of hiw own making. To start with following the primary election instead of inviting the runner up to complete the presidential ticket, in that case a lady sponsored by ex president Jose Mujica, the engineer picked another woman, an alleged social worker, with a fake degree, and so radical (ie denying property rights, and promoting nationalization of banks and farm land), she has been limited to singing and dancing in political rallies, "don't you dare open your mouth".
And the last drop occurred this week during the only mandatory presidential debate with Lacalle Pou. He argued that political parties programs, in this case the one from the Broad Front, was a mere raft of proposals, "recommendations" and it was presidential "whim" discretion if to obey them, implement them or consider them.
Besides this some facts about his alleged condition of anti dictatorship militant, which did not coincide with his age or dates, or bringing up, and the truth is that as a child he spent much time in Paris, where his grandfather was Uruguayan consul. This means he belonged to a Uruguayan comfortable middle class home, married at 19 and lived with his parents until becoming an engineer, no son of a hard working humble family that could not make ends meet. All this was aired in the social media by former neighbors, class mates even disclosing that his wife's family were rich farmland owners.
This turned on ex president Mujica who openly attacked Martinez recalling that republics were created to end with kings, czars, Kaisers and enlightened characters with wisdom granted by God.
Not only that, Mujica underlined that "no president can do f... nothing unless he has the backing of a political force, of a strong political grouping that supports him...and keeps to the agreed program".
He added a president must remember that no one is above his comrades, he is just one more in the political pack, and must have the support of a political collective force, otherwise he's zero. "It seems we are electing a king or an 'illuminato', all this is bullshit..." blasted Mujica
The message was loud and clear, not only referred to Martinez arrogance and insolence, but to the fact that in effect Mujica is again the leading force in the parliamentary representation of the Broad Front. Despite having lost ground, Mujica's "Development with Distribution" has five Senators out of the Broad Front coalition's 13, plus another four from the Communist party and 24 members of the Lower House out of 42.
Likewise, knowing Mujica and his legislative background it is also clear he can be prepared to help the "multicolor" coalition on condition they respect some of the many jobs in the administration held by his followers. Furthermore it is very possible that the presidential sash will be handed to Luis Lacalle Pou by acting president Lucia Topolansky who also happens to be Mrs. Mujica.
In other words: Martinez, "game is over" and "I'm the boss".