Uruguay Sunday's presidential runoff, a multicolor power switching with strong winds of change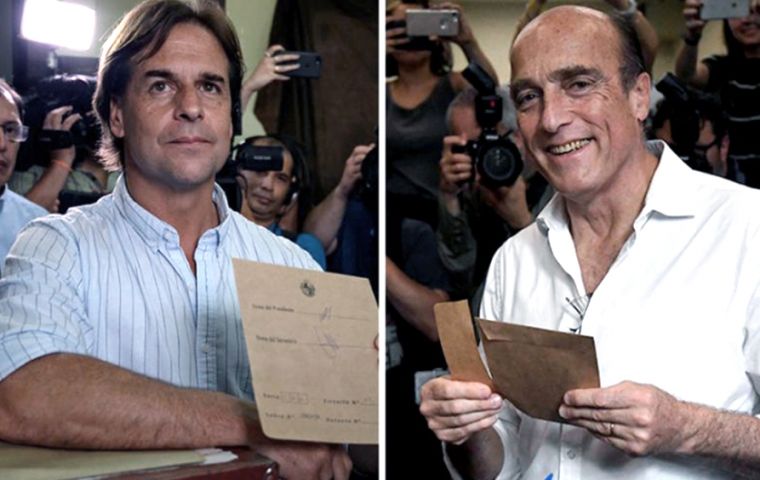 This Sunday 2.7 million Uruguayans will cast their ballots in the presidential runoff, which according to all opinion poll forecasts, will have Luis Lacalle Pou, the leader of an opposition multicolor alliance as head of the Executive next March, but equally significant, power switching, it will mark the end of fifteen years of almost undisputed predominance of a catch-all coalition, Broad Front, which ruled South America's smallest country for three consecutive five-year mandates.
In effect opinion polls, with all the shadow of uncertainty they can also entail, since in Uruguay as in the rest of the Western world they have been several times off target, show Lacalle Pou some six to eight points ahead of the incumbent hopeful and former mayor of Montevideo, Daniel Martinez.
The November 24 runoff follows the first round, October 27, when the Broad Front managed to remain as the leading political force despite having lost 2 Senate seats and 8 in the Lower House with almost 40% of the vote, while the opposition National Party of Lacalle Pou, received 29% of votes cast, kept its ten Senate seats but lost two in the Lower House. Junior partner, the Colorado party, was supported by 300.000 votes and managed to keep its two Senate seats and thirteen in the Lower House.
However the big surprise was the so called Open Forum, founded this year by an ex Chief of the Army, General Guido Manini Rios, sacked by president Tabaré Vázquez, and which collected some 11% of ballots cast, representing 3 Senate seats and 11 in the Lower House.
Thus the multicolor alliance, with these three components and another smaller parties with one Lower House member each, for the first time in fifteen years will enjoy a majority in the Legislative, crucial for the support of any president under the Uruguayan system. Their numbers add to 17 Senators out of 30, and 57 in the Lower House, out of 99, while the current government will see its representation drop to 13 Senators and 42 Deputies. The Broad Front is a catch-all coalition with an arch extending from former urban guerrillas to Christian Democrats, including the Communist and Socialist parties.
The Broad Frond won and ruled with absolute majority in the last fifteen years during three presidential mandates, two for current president Vázquez, 2005/2010 and 2015/2020, (no consecutive reelection in Uruguay) and one for Jose Mujica, (2010/2015) a crafty politician who can charm crowds but is completely incompetent in government administration with a complacent attitude towards corruption activities from his political cronies. His many announced projects foundered or are under claims of international litigation involving hundreds of millions of dollars.
The Broad Front also enjoyed most of the tail wind from the commodities boom, and China's demand, at the turn of the millennium, but that is over and one thing is to manage abundance, another scarcity. So Uruguay's finances although far distant from its delirious big neighbors, Argentina and Brazil, and even further from the political racism and income gaps of South Americas Pacific coast countries, are compromised.
So what went wrong in these last fifteen years which saw the Broad Frond lose one in five voters, and its overall political predominance. Analysts agree on several factors, natural exhaustion of the Broad Frond in office, arrogance, undelivered promises, extended corruption, administrative incompetence, repeated trade and budget deficits despite years of bonanza, and a foreign policy more aligned with ideology and private interests (Vazquez family and Mujica's cronies) such as insistently supporting Cuba and Venezuela as legitimate democracies, in their own way. Not to forget a rash of officials with alleged academic degrees which proved to be fake or simply dishonest, forcing the resignation for the first time in the history of the country, of a vice-president.
In practical terms for everyday families, Uruguayans have been forced to support an education system, once pride of the country, which has fallen to tatters with unions making most decisions, and letting children pass grades to avoid "stigmatizing" them, no matter if they can read or know their math.
A well intended national health scheme, but which ended falling in the hands of unions, medical lobbies and the pharmaceutics industry, with ballooning uncontrolled costs. Not to mention that president Vazquez, himself an oncologist, managed to corner that whole section of the market.
But probably the most devastating impact has been law and order and crime. Acting under the presumption that criminality is a consequence of selfish capitalism and obsession with private property, with the community partly responsible, leniency has meant that Uruguay, once a relatively peaceful country, in many cities has no-go areas, (riot police and only intervene with armored vehicles and helicopters), but also the number of homicides every 100.000 population has soared and now stands at an average of 11.2 and 15.4 in Montevideo. This compares favorably with Brazil and its gangs warfare, at 27.3, but far distant from neighboring Argentina and Chile, with 6.6 and 3.6 rates respectively. Even the US Departement of State has elevated its travel advisory warning for Uruguay to Level 2.. For examples according to the UN Office on Drugs and Crimes stats, US figures with a 4.90 rate and most of the EU is below a 1.5 rate.
On a more personal angle, Daniel Martinez has proven to be the dullest of all presidential candidates ever presented by the Broad Front. His not good at improvising speeches, he has phonology problems, his arguments are too simple and lack the down to earth spice, and most significantly his alleged humble family origins, in his official biography, have been destroyed by former neighbors and school pals. Martinez grandfather was a Uruguayan diplomat in Paris, his father was born in France, he attended expensive private schools, and he obtained his mechanical engineer degree at 25, living with his wife and child at the parental home in a posh quarter of Montevideo. Far from his repeated statement that he studied and worked at the same time, on occasions as cinema janitor, others peeling garlic. Besides his first work experience was with Uruguay's fuel refining company, Ancap, which according to his age he was employed during the military dictatorship. To be contracted and hold a job in Ancap at that time he had to be a triple A citizen. Triple A, because when the military, citizens were categorized, A, reliable, B, doubtful and C unreliable.
Said this despite winning the Broad Front primary Martinez ignored the internal pecking order, which is that Mujica is king, he has and will have in the next legislature over half of the Broad Frond seats in parliament, both the in Upper and Lower houses. Martinez ignored Mujica's candidate to complete the presidential ticket and chose an unknown woman Graciela Villar, who ultimately is only allowed to speak at Broad Front rallies. In other rallies to attract middle of the ground votes, she's limited to dancing and singing, her rhetoric against private property, land ownership and the military is more than radical, scaring and infantile. Mujica also in another strong signal and display of leadership had his outcast vice president candidate elected as Senator for the Communist party.
Furthermore during a presidential debate with Lacalle Pou, Martinez said that the Broad Front program is but a collection of proposals, and it is the president (Martinez) who decides what is to be done. This triggered the fury of Mujica who publicly blasted, "no president can do f...... nothing unless he has legislative support!", End of story. Not only that, Martinez declares to belong to the Socialist party, which only managed one Senate bench, and from the Marxist oriented wing in which the local Socialist party is divided. The other wing is more inclined towards the social democrats.
So in this scenario, on Sunday, it is hard for Lacalle Pou given the percentage points advantage not be voted as next president, even when the Broad Front in a last desperate attempt is ferrying Uruguayans living mostly in Buenos Aires to travel to vote 24 November. Broad Front is thinking of probably bringing across some 18.000 to 25.000 voters. In Uruguay there is no overseas vote or mail vote.
So if next March Lacalle Pou takes on the presidential sash he has a daunting task ahead: changing the emphasis of how to combat criminality; scarce resources with a bloated budget, exhausted taxpayers and deficit in the range of 5% of GDP; very strong unions with a fat wallet prepared to take to the streets to defend privileges; a Uruguay cost too high to compete because of labor and social security legislation; an unsustainable pensions system, like in most of the world; a government bureaucracy which was increased with 60.000 new jobs; a foreign policy strongly aligned with Cuba, Venezuela while at the same time rejecting trade deals with other (allegedly imperialist countries) which is costing Uruguay some US$ 250 million annually in additional tariffs; recovering and transforming the education system from a class struggle oriented emphasis to picking the glove of the challenge of the fourth industrial revolution and the circular economy, ...last but not least addressing the extended corruption claims.
That is more than enough for the next five years.