Suriname president Bouterse convicted of murder for the execution of 15 opponents in 1982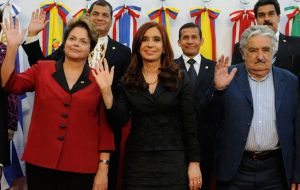 A court in Suriname on Friday convicted President Desi Bouterse of murder for the execution of 15 opponents in 1982 following a coup to seize power, sentencing the man who has dominated the former Dutch colony's recent history to 20 years in prison.
Opposition parties called for Bouterse, currently in China on an official visit, to step down. The military court that found him guilty has not yet ordered his arrest.
Bouterse was expected to return to Suriname on Saturday or Sunday, skipping a planned trip to Cuba, the vice president of his National Democratic Party told local newspaper De Ware Tijd. Ramon Abrahams told the paper he was in telephone contact with Bouterse and called an emergency meeting of the party.
Bouterse led the South American country through the 1980s as head of a military government, then assumed office again in 2010, as elected president and secured re-election five years later.
The court ruled that Bouterse had overseen an operation in which soldiers under his command abducted 16 leading government critics - including lawyers, journalists and university teachers - from their homes and killed 15 of them at a colonial fortress in the capital Paramaribo.
One trade union leader survived and later gave testimony against Bouterse.
Bouterse, who has steadfastly denied the charges, is able to appeal the decision. The president, who was represented by a lawyer in the trial, has so far made no comment on his conviction.
In a statement, the Surinamese government said it had "taken note of the developments and calls on the community to keep the peace."
Critics have vilified the 74-year-old Bouterse as a dictator who has clung to power in the country of 560,000 people, which gained independence from the Netherlands in 1975.
Angelic del Castillo, head of the opposition Democratic Alternative '91 party, said Bouterse had "disqualified himself" from remaining Suriname's leader and demanded he immediately resign. "This is in the interest of the dignity of the office and of our nation," del Castillo said in a statement.
Bouterse's National Democratic Party (NDP), has repeatedly tried to halt the trial and six people accused of being involved have already died since it began 12 years ago.
In 2012, the National Assembly passed an amnesty law granting Bouterse immunity, which was later invalidated by a court ruling. In 1999, Bouterse was convicted in absentia for drug trafficking by a court in the Netherlands - allegations he denies.
In March 2015 Dino Bouterse was sentenced to 16 years in prison, after pleading guilty six months before to U.S. charges that he tried to offer a home base to the Lebanese paramilitary group Hezbollah.
Dino Bouterse worked in a Suriname counter terrorist unit, was sentenced by U.S. District Judge Shira Scheindlin in Manhattan. Bouterse had also admitted to drug trafficking and firearms charges.
U.S. prosecutors accused Bouterse of inviting people he thought were from Hezbollah to establish a base in his home country, in exchange for US$ 2 million that was ultimately not paid.
Bouterse was arrested by Panamanian authorities after a sting in which he allegedly talked about his activities with confidential informants from the U.S. Drug Enforcement Administration. Hezbollah has since 1997 been designated by the U.S. State Department as a foreign terrorist organization.
Prosecutors had urged that Bouterse spend 30 years to life in prison, in accordance with recommended federal guidelines.
Suriname is an associate member of Mercosur since July 2013, when the South American block was dominated by populist governments, Dilma Roussef in Brazil, Cristina Kirchner in Argentina and Jose Mujica in Uruguay. Paraguay had been suspended following the removal of populist and former bishop Fernando Lugo.