UK delegation travelling for the 80th anniversary of the Battle of the River Plate
Sunday, December 1st 2019 - 02:22 UTC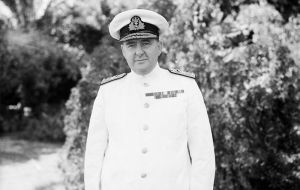 This Sunday, December first members of the HMS Ajax and River Plate Veterans leave for Chile, Uruguay and Argentina to recall events of the 80th anniversary of the Battle of the River Plate, 13 December 1939.
In Chile they will be commemorating the assistance provided by HMS Exeter and HMS Ajax to the Chilean government following the earthquake at Concepción in January 1939.
From Chile they travel to Uruguay for a number of events including, on December 13th (the anniversary day of the battle), a service to commemorate the Battle of the River Plate at the Holy Trinity Church in Montevideo.
The Association Chairman will unveil a commemorative plaque dedicated to all those who died serving in all the ships involved at the battle. This will be placed alongside the original memorial board dedicated to those who died at the battle in the British ships.
In addition, there will be visits to cemeteries to honour those from both sides who are buried in Uruguay and Argentina.
Finally, in Buenos Aires in Argentina tour members will attend a Luncheon Reception hosted by the Graf Spee Association.
This association is made up the families and descendants of crew members of Admiral Graf Spee. The following day there will be an historical seminar with the Graf Spee Association when Jonathan Harwood will deliver a lecture on the battle.
Jonathan is the grandson of Admiral Henry Hardwood the commander of the squadron, (HMS Exeter, HMS Ajax and HMNZS Achilles), which cornered the Graf Spee in Montevideo. The German pocket battleship was later scuttled by its commander, Captain Hans Langsdorff.