Falklands' fishing companies question government's decision to increase toothfish and calamari fishery fees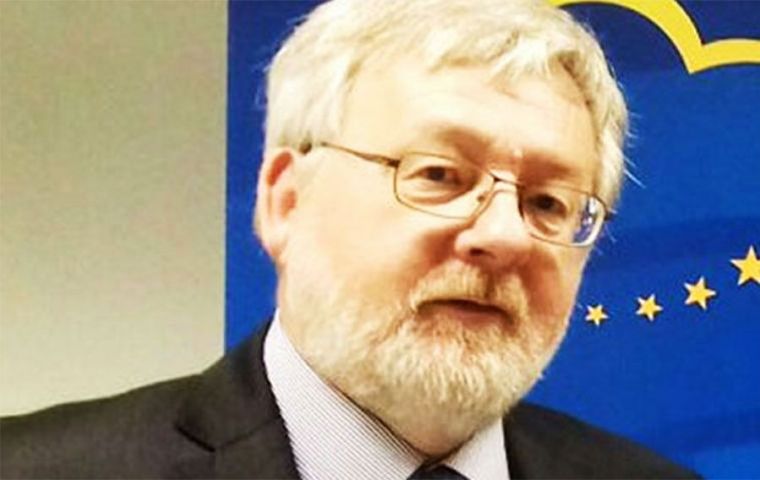 Falkland Islands fishing company representatives led by Stuart Wallace of Fortuna Ltd condemned the 50% rise in toothfish and calamari fishery fees at the Fisheries Committee meeting.
Referring to the relationship between fishing companies and the government Mr. Wallace said: "Frankly the high quality and confidence developed in the ITQ (Individual Transferable Quota) process was destroyed by the process and the result of the ITQ extension."
He said government had put a spin on it that it was a, "result of careful analysis; we don't think that is true and we don't think the facts bear it out."
Portfolio holder MLA Teslyn Barkman however said this was not the case and the very reason the ITQ Review 2019 had taken place was, "because we wanted to find a way to promote the industry; we did not want to undermine the industry at all."
She said the reasoning underpinning the fees increase was based on what was happening with profitability in the industry "in the today" because the review of ITQ fees was an annual process so logically it was appropriate to do so.
However, the increase was also looked at in the light of both the ITQ Review 2019 and the industry's historic track record.
Mr. Wallace went over the schedule of events leading up to the increase, implying that government had made a decision to "extract" £20 million and then attempted to justify that decision.
He said the ITQ fees 2020 ExCo paper appeared to be based on a policy paper that in fact made it clear that the long-term turnover and profitability in relation to the fishing sector would be impossible to predict
He said FIFCA undertook a large body of work including commissioning a report from consultancy firm KPMG and their findings were presented to FIG but were never acknowledged.
MLA Barkman said that KPMG report was in fact included in the 2020 paper but redacted.
She also noted that in relation to the disclaimer or caveat in the policy paper, the caveats were all reflected within the work of the paper and had "been reinforced," and MLAs had that disclaimer in "full and present mind."
Mr. Wallace expressed distrust of the idea that FIG would reduce the fees in event of a reduction in profitability, but MLA Barkman said it was FIG's intention to do so if it was required.
Mr. Stuart however was adamant that MLAs had simply looked at the last three years of "good performance in the fishery; ignored the major and increasing fees and taxes we contribute to the economy…" and decided to "turn the screws on the sector even more". (Penguin News).