Paraguay takes the chair of a quarrelsome strained Mercosur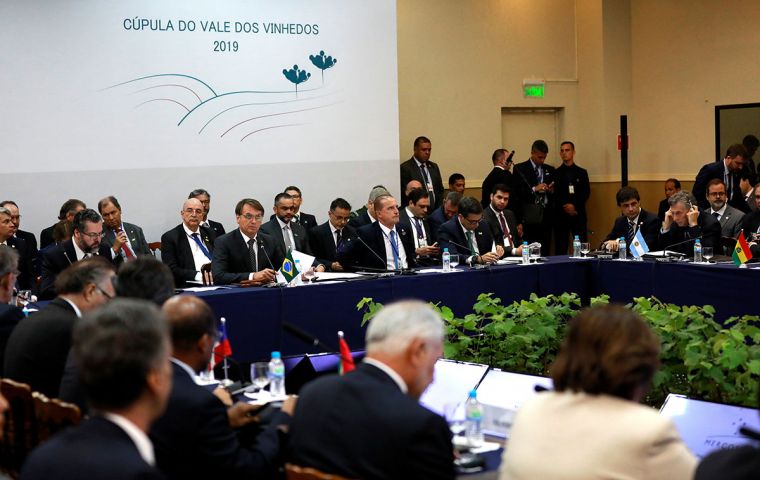 Brazil on Thursday handed over the six-month rotating presidency of the Mercosur trade bloc (Southern Common Market) to Paraguay. During a ceremony at the bloc's 55th summit in Bento Goncalves, Brazil's president Jair Bolsonaro expressed confidence in his Paraguayan counterpart Mario Abdo Benitez and his leadership skills.
"Your leadership will be highly valuable to the bloc at this time of so many challenges," said Bolsonaro.
Relations within the bloc, Brazil, Argentina, Paraguay and Uruguay, have been strained by the changing political landscapes in member countries.
In Argentina, a progressive government is set to take over from the outgoing conservative government, with which Bolsonaro found much affinity.
As the host of the summit, Bolsonaro highlighted the bloc's "revival" this year, thanks to trade agreements reached with the European Union (EU) and the European Free Trade Association (EFTA), which gathers Switzerland, Norway, Iceland and Liechtenstein.
"Brazil trusts in greater open trade as a tool for development. We cannot waste time, we need to carry out the reforms that are making Mercosur more vital, without ideological delays," said Bolsonaro.
With the incorporation of the new Uruguayan government under president elect Luis Lacalle Pou, and the departure of Macri, the Mercosur balance remains three to one, with the Alberto Fernandez left leaning administration dissenting.
That is why the mid December Mercosur summit was advanced to the first week, so Bolsonaro would not have to host and meet with Argentine president elect Alberto Fernandez whom he described as a "red bandit" and said voters had made a mistake by electing him.
In effect the family picture of the Mercosur leaders showed Bolsonaro, Macri and Abdo Benitez waving with their right hands, while Uruguay's outgoing vice-president, and wife of Jose Mujica, with her left hand
Meanwhile the Uruguayan president elect avoided travelling to the summit, although invited, arguing that Mercosur faces a tense future because of the row between Bolsonaro and Fernandez. Even supportive of an orthodox economic approach, such as the one sponsored by Bolsonaro, open economies and lower external tariffs, Lacalle Pou insisted much was political and commented he hoped that "pragmatism would prevail over ideology".