Bolsonaro and minister Moro clearly lead presidential opinion polls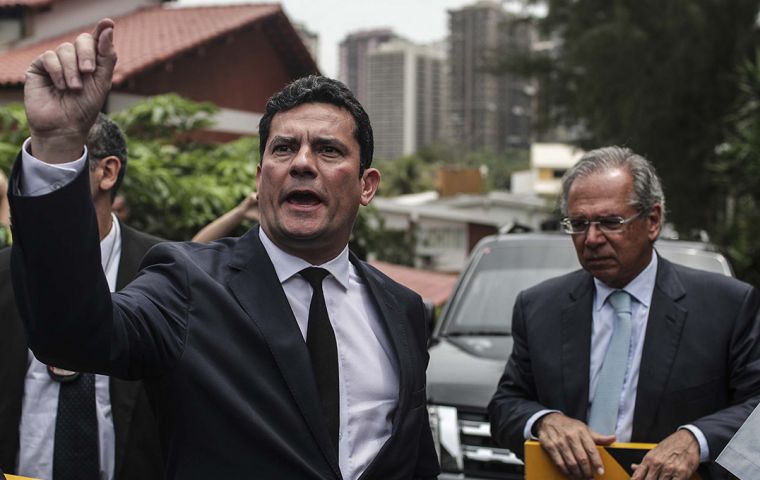 If elections were held today in Brazil, president Jair Bolsonaro would be the clearly re-elected with the exception of two scenarios, if facing ex-president Lula da Silva, and current Justice minister Sergio Moro, according to a public opinion poll contracted by the magazine Veja.
With Lula da Silva, a very popular political figure but tarnished by multiple allegations of corruption during his years as president, Bolsonaro would obtain 32% of the vote in the first round and the former union leader 29%, a so called technical draw. However in the runoff, the conservative president would win by 45% to 40%, although a few percentage points less than in October, 46% to 38%.
However with Justice minister Sergio Moro, the ex judge who sentenced Lula in several cases for corruption, the picture is a bit different. In the first round Bolsonaro and the minister would in effect reach a technical draw, and in the runoff, both would obtain 36%, according to the FSB opinion poll.
The survey was done between 29 November and 2 December, interviewing 2.000 potential voters, above the age of 16, in 27 federal states, with an error margin of plus/minus two percentage points.
Among other possible candidates such as the ex mayor of Sao Paulo Fernando Haddad and the governor of Sao Paulo state, Joao Doria, Bolsonaro would easily beat them in the first round and runoffs.
If the two candidates were Moro and Lula, the poll shows a technical draw in the first round, 32% for the minister and 29% for Lula, but in the runoff Moro clearly defeats the ex president, 48% to 39%.
Finally when it comes to negative image or vote rejection, of the names mentioned ex mayor of Sao Paulo and ex presidential candidate Fernando Haddad, is top of the list with 60% of interviews. He is followed by ex president Lula, 56%, Bolsonaro, 48% and Moro, 35%.