Cruise vessel adrift off Canary Islands after engine failure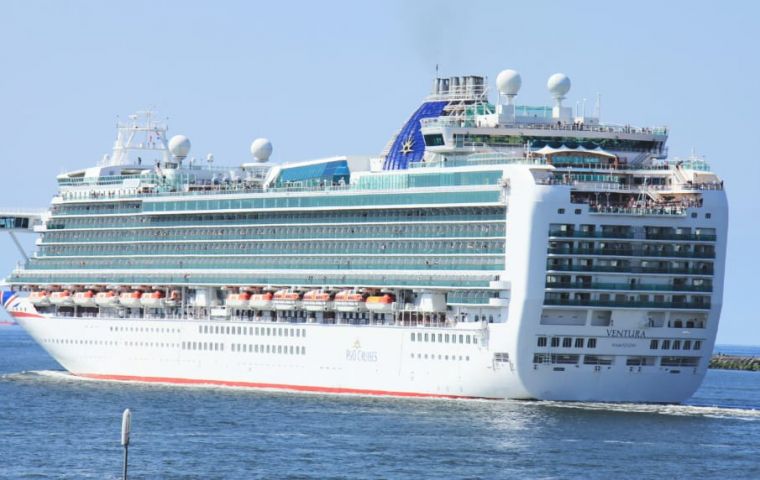 A cruise ship that is operated by Carnival-owned P&O Cruises, based in the UK is back in Tenerife after having suffered a loss of propulsion and remained adrift until towed to port.
During her 12-day cruise out of Southampton, UK the P&O Ventura suffered engine failure and as a result, issued a mayday. On Saturday evening after the large vessel departed her scheduled port visit at Santa Cruz de Tenerife in the Canary Islands she suffered a loss of propulsion.
The ship was drifting towards the northeast of Tenerife island but at no time were guests in any danger and everyone has been kept updated onboard. It was announced to guests that two tug boats were on route to tow the cruise ship back to Santa Cruz de Tenerife overnight.
According to the ship's captain, the issue was due to condensation in the electronics and in turn caused the main propulsion systems to be knocked out. However, the ship did still have the bow thrusters available. It occurred as the vessel was sailing from Santa Cruz de Tenerife towards the next port of call of Arrecife.
With the ship now berthed back in Santa Cruz, the call to Arrecife on December 8 has been canceled. The ship remains in port after arriving Sunday morning. Investigations are set to continue along with repairs.
According to guests onboard, the ship is expected to depart at around 9:00 PM tonight towards Lisbon. The ship is scheduled to call at the Portuguese port on December 10 at around 8:00 AM before returning back to her homeport in Southampton on December 13.
P&O Ventura is 116,000 gross tons with a guest capacity of over 3,100 at double occupancy. She was delivered to the British-based cruise line in 2008 so it is fairly new compared to most major fleets. The ship last underwent a dry dock in 2018.
According to the maritime report, the cruise ship VENTURA was disabled and started to drift at around 2030 UTC Dec 7, shortly after leaving Santa Cruz De Tenerife, Canary Islands, during her 12-day cruise which started at Southampton. The ship requested assistance, she was taken n tow at around 0120 UTC Dec 8 and towed back to Santa Cruz. She was berthed in the morning Dec 8, and as of 0300 UTC Dec 9, was still at Santa Cruz. According to Captain, the ship lost propulsion because of condensation in electronics. Cruise ship VENTURA, IMO 9333175, GT 116017, built 2008, flag Bermuda, operator P&O Cruises, capacity 3192 passengers.