New Zealand volcano eruption surprises visitors from cruise ship Ovation of the Seas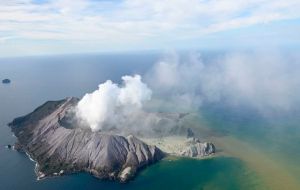 Several people were injured at White Island in New Zealand when a volcano began erupting there on Monday, the region's mayor said. The eruption began about 2.30 pm local time on the island, about 50km from the east coast of North Island, authorities said, throwing smoke and debris into the air.
According to the national Met Service, the eruption was visible on satellite images.
"I'm not sure if these people were on the island or near it, but there was definitely one group out there and they definitely needed medical care," said Whakatane Mayor Judy Turner.
"There were some injuries and focus is on getting these injured people back safely and to get them to a hospital."
She added that there seems to be no danger for the people in the coastal areas, farther from the volcano.
New Zealand Prime Minister Jacinda Ardern said separately that about 100 people were on or around White Island at the time of the volcanic eruption, with some unaccounted for.
"It is very much an evolving situation and of course all our thoughts are with those affected," she told reporters in Wellington, shortly after the eruption.
A report by the NZ Herald said many of those visiting White Island on Monday were from the cruise ship Ovation of the Seas.
Port of Tauranga company chief executive Mark Cairns was quoted as saying that he understood the majority of those injured in the eruption are from the ship.
New Zealand's national emergency crisis centre has been activated.
The volcanic eruption made the area immediately around the island hazardous, the National Emergency Management Agency said in an emailed statement.
Smoke from the eruption was visible from the mainland, and the emergency management agency said falling ash might affect some areas.
Cameras providing a live feed from the volcano showed more than half a dozen people walking inside the rim at 2.10pm local time, before images went dark when the eruption occurred minutes later.