No end in sight for Venezuela's hyperinflation as November indexes are released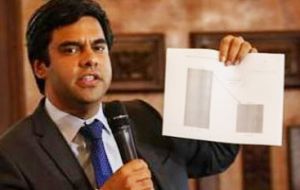 Hyperinflation continues to reign supreme in Venezuela as it reached 38.5% in November, with a cumulative rate of 5,515.6% and an interannual of 13,475.8%, the opposition National Assembly reported Tuesday.
Its "intensity has diminished, but it is maintained and it will surely be maintained throughout the first half of next year because the disorders which boosted hyperinflation are maintained," said Deputy Angel Alvarado of the Parliament's Finance Commission.
According to their figures, inflation had fallen by 2.8% in October to 20.7% after it closed in September at 23.5%.
Alvarado said that the items to vary the most were: Education, 102.3%, household equipment, 58.1% and clothing and shoes 54.6%.
He also pointed out that inflation in November already outpaced the minimum wage, since the food basket worth about 135 US dollars at the official as opposed to salaries around 3.5 US dollars at the same rate).
In other words, "the minimum income only covers 2% of the [basic] food basket," according to Alvarado, who added that as a result of the erroneous economic policies of the Nicolás Maduro regime, economic activity fell by 43% in the third quarter of the year.
"The non-oil GDP has fallen 78% this year and this as a result of the credit restriction, the legal reserve, which mitigated the speed of prices, but generated a very deep, widespread recession," he said.
To make matters worse, this situation is coupled with the shortage of fuel and electricity in most parts of the cuntry except from Caracas.
"We have a country without a public budget, neither in 2019 nor by 2020, because it was not submitted [for approval], which generates a great fiscal disorder, and a Central Bank with no [currency] exchange goals or monetary policies, that is, we do not know what to expect," Alvarado explained.
He added that a 12,000% monetary expansion to finance the Executive guaranteed further hyerinflation.
He also warned "Venezuela can become a big money launderer," as a consequence of the piping of euros of unknown origin into its economy, while "the de facto dollarisation that the country goes through is increasing the social gap between the small sector that has access to the dollar and the vast majority of Venezuelans who do not," which makes Venezuela "the most unequalitarian country in the world according to the Survey of Living Conditions (Encovi) carried out by the three main national universities.