To recover Falklands' sovereignty, president Fernandez pledges peace, diplomacy and ...patience
Wednesday, December 11th 2019 - 23:59 UTC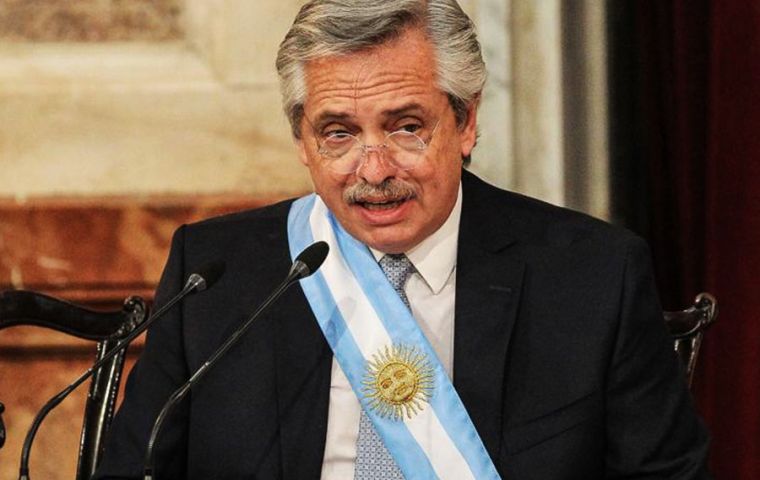 Argentine president Alberto Fernandez after taking the oath of office on Tuesday midday made his first speech to Congress in which he included a strong reference and claim to the Falklands and South Atlantic Islands.
"We reaffirm our strongest commitment to honor the First Transitory Clause of the Argentine Constitution and we shall work tirelessly to boost ...'the legitimate and imprescriptible sovereignty claim over the Malvinas, South Georgia and South Sandwich Islands and corresponding maritime and insular spaces...'".
"We shall do it knowing that the peoples of Latin America and the world are supporting us, and convinced that the only possible way is peace and diplomacy. We shall honor the memory of those who fell fighting for sovereignty. We shall work for the peaceful resolution of the disagreement and based on the dialogue proposed by the United Nations Resolution 2065.
"There is no more room for colonialisms in the XXI century.
"We know that for this task the term of one president will not be enough, or of a government. It demands a medium and long term State policy. That is why I will convene within the presidency a Council with participation of all political forces, the province of Tierra del Fuego, representatives from the academic world and former combatants. The objective will be to forge a national consensus to design and advance the strategies that will allow us to push forward with success the claim no matter the electoral calendar.
"We shall defend our sovereign rights over the Malvinas Islands, the continental shelf, Argentine Antarctica and the natural resources in those extensions because they belong to the Argentines".