Bolsonaro calls climate activist Greta Thunberg "a brat" over Tweeter posting
Thursday, December 12th 2019 - 03:24 UTC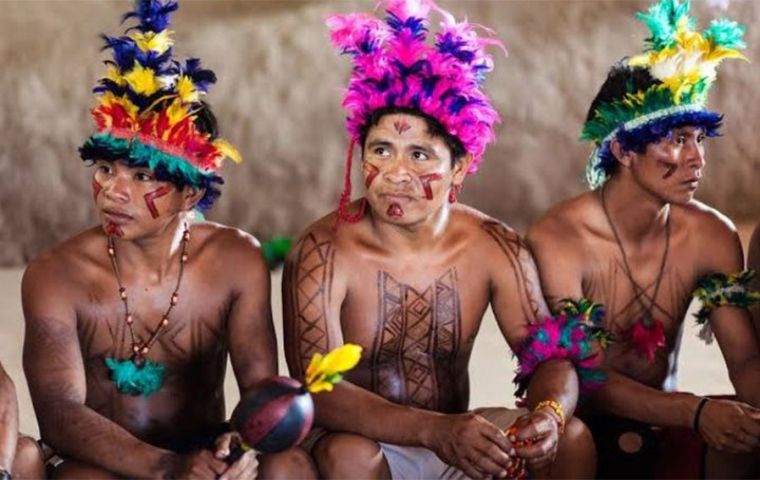 Brazilian President Jair Bolsonaro Tuesday dubbed activist Greta Thunberg "a brat" after the 16-year-old Swede denounced the murder of two indigenous people in the Amazon region and pointed fingers at illegal deforestation.
"Greta has already said that the Indians died because they were defending the Amazon," the president said ironically.

"It is impressive that the press gives space to a brat like her, a brat," he added, answering questions from journalists upon leaving his official residence in Brasilia.

Thunberg reacted on social media, just as she did back in September against US President Donald Trump, who ironically said that she seemed "a very happy young woman with expectations of a wonderful future" after her hard speech before the United Nations.

The Swedish teenager, who has become an icon of youth concerned with climate change, condemned the shooting murder last weekend of two Guajajara Indians inside Maranhao, northeastern Brazil.

"Indigenous peoples are literally being killed for trying to protect the jungle from illegal deforestation. And again. It's embarrassing that the world remains silent about this," she wrote on Twitter, where she has more than three million followers.

The attack, which is being investigated by the Brazilian authorities, occurred less than forty days after the murder of another indigenous leader in the same region.

In 2019, seven indigenous leaders have died from conflicts in the countryside, the highest number in at least a decade, the Pastoral Land Commission (CPT) reported in a preliminary report released Tuesday. Two indigenous leaders died of the same cause in 2018.

"We live in a time when the State is the promoter of the aggressions. At this political moment in which we live, those responsible for the violence will decide if these indigenous peoples have no rights and have to be eliminated. We are seeing a massacre," said CPT coordinator Paulo Moreira.

The Guajajara tribe, who work to protect the rainforest, has been threatened by loggers who experts say have taken advantage of reduced controls and less oversight to seize control of forest lands.

Bolsonaro, who defends the expansion of agricultural and mining activities in the rainforest, said Tuesday that "any death worries me" and that his government is "contrary to illegal deforestation."

Environmental and human rights organizations accuse the Brazilian president of promoting policies that weaken the protection of the environment and indigenous peoples.