Greta youngest ever winner of Time Magazine's POY Award
Thursday, December 12th 2019 - 03:35 UTC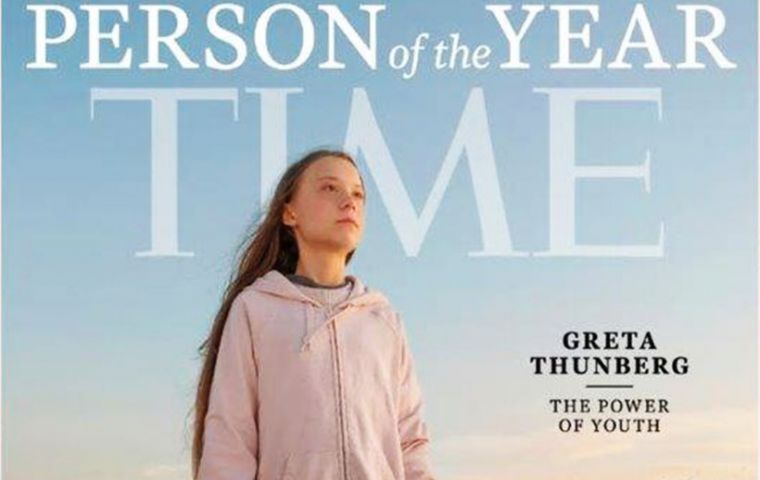 Swedish climate change teenage activist Greta Thunberg was chosen Wednesday as Time magazine's 2019 Person of the Year (POY) award, the New York-based publication announced, thus becoming the youngest person ever to receive the accolade.
The 16-year-old Thunberg has become the face of the youth climate movement, challenging world leaders with her speeches and protests to do more to stop global warming.

"For sounding the alarm about humanity's predatory relationship with the only home we have, for bringing to a fragmented world a voice that transcends backgrounds and borders, for showing us all what it might look like when a new generation leads, Greta Thunberg is TIME's 2019 Person of the Year," the media franchise said Wednesday on its website.

The daughter of an opera singer mother and an actor-turned-producer father, Thunberg has faced severe criticism – the latest from Brazilian President Jair Bolsonaro, who dismissed her as a "brat." Others try to discredit her because of her Asperger's syndrome, a diagnosis she has never hidden.

Thunberg was in Madrid Wednesday, where she addressed negotiators at the UN's COP25 climate talks.
The 16-year-old first made headlines with her solo strike against global warming outside Sweden's parliament in August 2018. Within months of launching her lonely "School Strike for the Climate" protest outside the Swedish parliament Thunberg was spearheading global demonstrations by young people and demanding environmental action from world leaders.

"We can't just continue living as if there was no tomorrow, because there is a tomorrow. That is all we are saying," Thunberg was quoted as saying by Time in an interview released Wednesday. The magazine interviewed Thunberg aboard the sailboat that took her from the United States to Europe after a hectic 11-week North American trip to several US cities and Canada.

Her diagnosis means that Thunberg "doesn't operate on the same emotional register as many of the people she meets," Time magazine wrote. "She dislikes crowds; ignores small talk; and speaks in direct, uncomplicated sentences. She cannot be flattered or distracted" – and according to the magazine, "these very qualities have helped make her a global sensation."

Thunberg insists she has "not received any money" for her activism. And with 12 million followers on her Instagram, Twitter and Facebook accounts, she continues to rack up high-profile supporters, from Barack Obama to the Dalai Lama and Arnold Schwarzenegger.

Last year's Time winners included slain Saudi journalist Jamal Khashoggi; the staff of the Capital Gazette in Annapolis, Maryland, where five people were shot to death; Philippine journalist Maria Ressa; and Reuters journalists Wa Lone and Kyaw Soe Oo.