Falkland Islands Government expects "Robust budgeting" amid "challenging" international relations scenario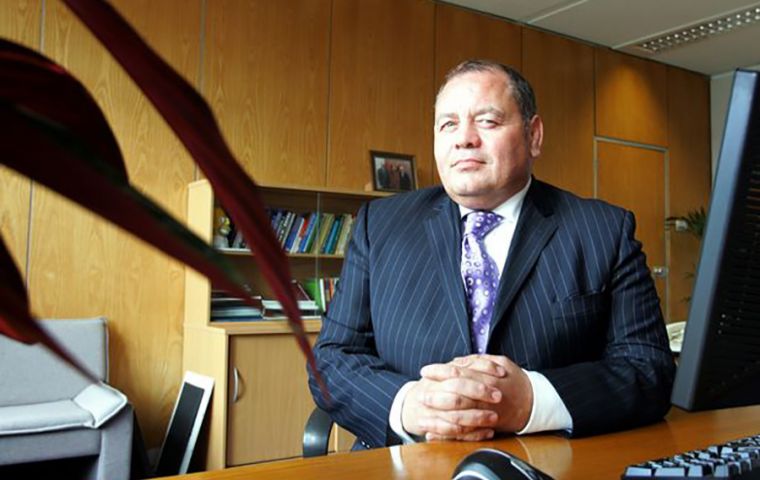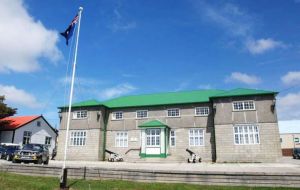 "As a government we continue to be careful stewards of our finances and operate a robust and credible budgeting process that is both open and transparent," Falkland Islands Government's Chief Executive Barry Rowland stated during a speech to Legislative Assembly.
Mr Rowland made the comments while giving an update on the Islands Plan and while speaking of self-determination and good governance.
He noted the Government's November forecast operating surplus for the current financial year standing at £11.3m. He added; "At the same meeting there was an investment report that said that the total value of Falkland Islands Government funds had increased to £388m as at the end of September 2019."
He said the government had an ambitious approved capital programme of over £120m.
"During the next budget round there will be a review of how major projects can best be financed, should those projects proceed.
"Long term financial resilience and the need to maintain and develop infrastructure is reflected in the Budget Planning Principles that have recently been ratified by Executive Council."
He also noted the Government had been working hard to translate the policy wishes of Members into the legislation necessary to achieve goals.
Mr Rowland said there had, for example, "been very substantial work done around Maritime Ordinances, work which may not gather headlines but which is critical."
In other areas we have worked to make old legislation fit for the present, such as the substantive overhaul of regulations around communications and spectrum management."
He said: "Honourable Members are right to ensure that our relationship with the UK remains fit for purpose and reflects the present realities in both the UK and the Islands. We are therefore continuing to support the ongoing review of the Falkland Islands Constitution, launched in 2018. We are also working with Members as we prepare for the Single Constituency referendum to be held in March 2020."
He spoke of public diplomacy and international relations commenting: "These are exciting times for the Islands, but in a number of ways they are challenging. We have the ongoing uncertainty surrounding Brexit, the recent Argentine general election, and of course a new parliament in the UK following their general election. This has been one of the Government's most important areas of work over the last year and that will be even more important in the year ahead."
Mr Rowland and significant advances had been made in relation to population and workforce. He said it outlined that the Islands had an exceptionally high labour participation rate by international standards for both men and women across the Islands. Unemployment is extremely low at approximately 1% of the labour market, and almost a fifth of people in employment hold two or more jobs. "This illustrates the necessity for drawing on labour from overseas particularly given our ambitious capital development programme over the coming years and the wider growth in all sectors of the economy," said Mr Rowland.
He added: "Recognizing the importance of this issue, we are not only examining our immigration and work permit policies but also advancing several other related labour market initiatives: our ongoing skills audit has identified critical skills gaps throughout the economy; we have reviewed and updated the Living Wage; we have undertaken public consultations on living and working in the Falklands, and building on this we have done work to identify factors influencing settlement decisions."
Mr Rowland said it had to be recognised however that the Falklands would continue to need a short-term workforce "to meet peaks in demand as the infrastructure of the Islands is further renewed and developed. The recent agreement to contract Wickham Heights Limited to provide accommodation for construction workers demonstrates we are thinking ahead and is part of wider preparations."
He added: "Making the government an employer of choice is key. A review of key aspects of the Management Code was recently completed to help improve communication and support for employees."
Mr Rowland also spoke of economic developments in particular of the fishery, noting: "In October, Executive Council agreed the way forward as a result of a review of the ITQ system including a process for renewing and extending current ITQ. That review includes an Accord between the fishing industry and FIG on the future direction of the fisheries sector. This recognises the fisheries sector as the major economic driver of the economy and sets out a renewal process that provides for companies to renew their ITQ to 2046."
He added; "The Falkland Islands is rightly recognised for having a well-managed fishery.
The last year saw the reinstatement of joint work involving Argentina, UK and with Falkland Islands participation on fisheries conservation issues, data exchange, and joint research cruises. Collaboration at a Regional level will be essential to the long-term health of the sector and will affect both our ability to regulate and conserve stocks for the future."
On farming he said: "As a government we have continued to support our farmers so that they can expand and diversify their businesses. We have also worked closely with FIMCo over the challenges related to Brexit. As well as supporting our farmers at home, we have been active in helping promote their products abroad, including participation in international organisations and forums that promote awareness and promote trade of Agricultural products." (Penguin News)