Bolivarian countries call Evo's departure from presidency "a coup d'état"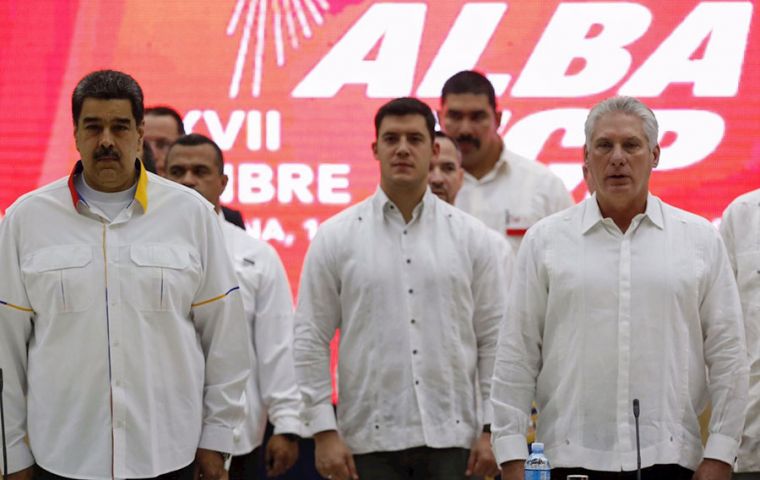 Dignitaries of several Latin America and Caribbean countries Saturday criticized the uprising that led the resignation of Evo Morales as president of Bolivia in - which was dubbed a "coup d'état" in a joint statement in Havanna on the closing day of the Bolivarian Alliance for the Peoples of Our America (ALBA) summit to celebrate the grouping's 17th anniversary.
The document also contained a blunt objection to "the shameful misrepresentation of Latin American reality by the United States and oligarchic elites in the region that seek to hide the true genesis of popular demonstrations."
Signatories of this declaration were Cuba, Venezuela, Nicaragua, Granada, Saint Vincent and the Grenadines, Dominica, Antigua and Barbuda, San Christopher and Nevis, Suriname and Saint Lucia.
Bolivia used to belong to the bloc, but it all changed with the interim government which now runs the country pending clean general elections while former President Evo Morales lives in exile in Argentina.
Not so long ago, Ecuador too was a member of the group. But Argentina, on the other hand, may soon join the alliance, analysts believe.
The meeting was attended by the presidents of Cuba, Venezuela and Nicaragua and the Prime Minister of Saint Vincent and the Grenadines as well as by other high-ranking officials from the ither member countries.
The approved text denounces the recent "coup d'etat" in Bolivia, the growing hostility of the United States against Cuba, Nicaragua and Venezuela and "interference actions against the political process in Suriname." It also rejects "the American falsehood of attributing to members of this Alliance, the responsibility in the organization of the massive popular protests that have spread throughout the region.
The declaration also demanded respect for the sovereignty, independence and territorial integrity of nations and the dialogue and peaceful resolution of conflicts and criticized the strengthening of the US embargo against Cuba.
The document states that the rise of neoliberal governments to political power in the region has generated "an obvious setback of social benefit policies in several countries," increasing poverty rates, deep social inequalities and marginalization of popular sectors.
According to ALBA "the governments of Brazil and Colombia are hostages of the White House policy towards the greater of the Antilles (Cuba)."