Brazil opens trade mission in Jerusalem, vows to move embassy there by 2020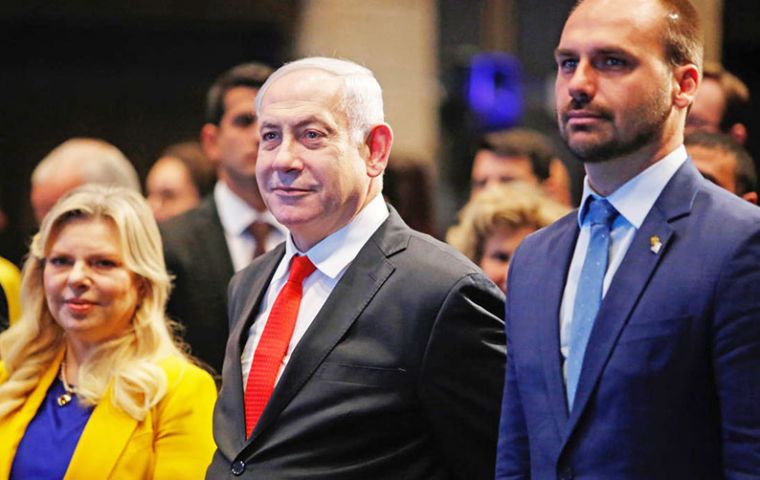 Brazil Sunday opened a trade office in Jerusalem, in what was perceived as a step towards finally moving the country's embassy in Israel to the iconic city. The opening ceremony was presided over by Deputy Eduardo Bosonaro, son if President Jair Bolsonaro.
"As my father says, the commitment still stands," said Eduardo in reference to a promise by the president to eventually move the embassy from Tel Aviv to Jerusalem.
Eduardo Bolsonaro chairs Lower House's International Affairs and National Defense Committee.
During Sunday's opening ceremony, Israeli Prime Minister Benjamin Netanyahu celebrated "President Bolsonaro's commitment."
The embassy is going to be in Jerusalem in 2020, Eduardo Bolsonaro announced. "He [President Jair Bolsonaro] will move the Embassy to Jerusalem. It's not something extraordinary. It's supposed to be a natural and normal thing. We want to move to Jerusalem not just for Brazil, but to set an example for all of Latin America."
Eduardo Bolsonaro also vowed that Brazil will recognize Hezbollah as a terrorist organization, saying, "we will fight terrorism together. If we want to prevent a terrorist attack, we must show strength."
In May 2018, the United States moved their embassy to Jerusalem following a decision by President Donald Trump.
The status of the city of Jerusalem is one of the most complex issues in the Israeli-Palestinian conflict. Israel controls Jerusalem-East since the 1967 war and then annexed it, an act that was never recognized by the international community. Israel currently considers the entire city as its capital, while the Palestinians want to turn East-Jerusalem into the capital of the state they aspire to.
However, the vast majority of foreign embassies are located in Tel Aviv so as not to interfere in negotiations between Israelis and Palestinians.
Trump ended decades of diplomatic consensus in December 2017 by recognizing Jerusalem as the capital of Israel and announced the transfer there of the US embassy in Tel-Aviv, which finally took place in May 2018.
The Israeli government said then that other countries would follow the same example. To date, only Guatemala has joined the United States, moved and maintains its embassy in Jerusalem.
Paraguay opened an embassy in Jerusalem in May 2018 but then moved it to Tel Aviv, causing Israel to closed its embassy in Asunción in retaluation.
In March 2019, Hungary too opened a commercial representation in Jerusalem.