Argentine farmers reject increase in export taxes, but privilege dialogue
Tuesday, December 17th 2019 - 23:54 UTC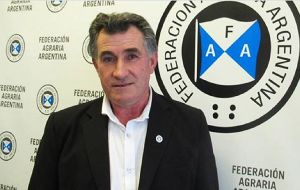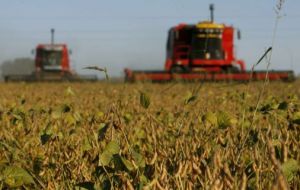 Argentine farmers are disappointed with the new taxes on farm produce exports decreed by government, and particularly with president Alberto Fernandez who had promised during the campaign to work with them in developing policies.
On Monday different farmers groupings under an umbrella organization that brings them together, Mesa de Enlace, met with government representatives and laid out their complaints especially referred to adverse climate conditions, bottom rock international prices and no profit margin for the increased taxes.
Nevertheless despite grumblings from many farmers who wanted to set up road blocks and a ban on supply to urban areas, a repeat of the 2008 confrontation, farmers' leaders said that they will continue along the dialogue path, and look forward to further meetings and consultations with government representatives.
The Alberto Fernandez administration decree boosted the rate for soybeans, soyoil and soymeal to 30% from about 25% and lifted the levy on corn and wheat to 12% from around 7%. The decree also raised beef export taxes to 9% from 7%.
"This way of letting us know about government policy changes really sends a message," said Carlos Achetoni, president of the Argentine Agrarian Association, one of the country's main farming bodies. "Our member are calling us obviously upset."
Carlos Iannizzotto, head of farm group Coninagro, said the decree "was not a good start" for the Fernandez administration in its relationship with the agriculture sector.
The new agriculture minister, former congressman Luis Basterra, was sworn in on December 10 in the Cabinet of Fernandez, who beat free-markets advocate Mauricio Macri, whose painful austerity measures hurt his reelection bid.
Farmers met Basterra's appointment with skepticism and worries about increased state intervention and higher taxes, as had happened during the 2007-15 administration of Cristina Fernandez de Kirchner, who is now vice president.
Argentina has large maturing debts in 2020 and tough fiscal targets agreed with the International Monetary Fund as part of a US$ 57 billion standby loan deal agreed on by Macri in 2018. Fernandez has said that the IMF deal will have to be revamped.
"Given the serious situation that public finances are going through, urgent adoption is necessary to meet, at least in part, budget expenditures with new resources," the decree said.
The government office that registers grains exports was closed on Monday while the new tax structure is put in place.
Argentina is the world's No. 3 corn and soybean exporter and top supplier of soymeal livestock feed.