Ms O'Connor, new UK ambassador to Uruguay, takes appointment in August 2020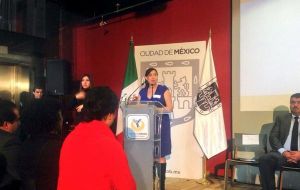 Ms. Faye O'Connor OBE has been appointed Her Majesty's Ambassador to Uruguay in succession to Mr. Ian Duddy who will be transferring to another Diplomatic Service appointment. Ms. O'Connor will take up her appointment in August 2020.
Full name: Faye Emily O'Connor, married to Jose Angel Reza Sanchez and they have two children.
From 2016 to present she was Head of International Development, UK Permanent Representation to the United Nations in New York. Between 2011 and 2016, she was First Secretary at Mexico City and in 2010, Climate adviser (on loan) to the Mexican government. From 2009 to 2010, Department for Energy and Climate Change, Head of International Climate Team.
Previously, 2007/08 FCO, Lead on Strategic Communications to Prevent Radicalization, Counter Terrorism Policy Department. In 2006, FCO Lead on Strategic Communications and Press to Prevent Radicalization, Press Office. From 2002 to 2005, Second Secretary in Moscow and in 2001, FCO Lead, Refugees, Election monitoring and conflict prevention, UN Department.