In a public release Piñera tells president Fernandez MYOB, abstain from comments on Chilean domestic policy
Thursday, December 26th 2019 - 12:20 UTC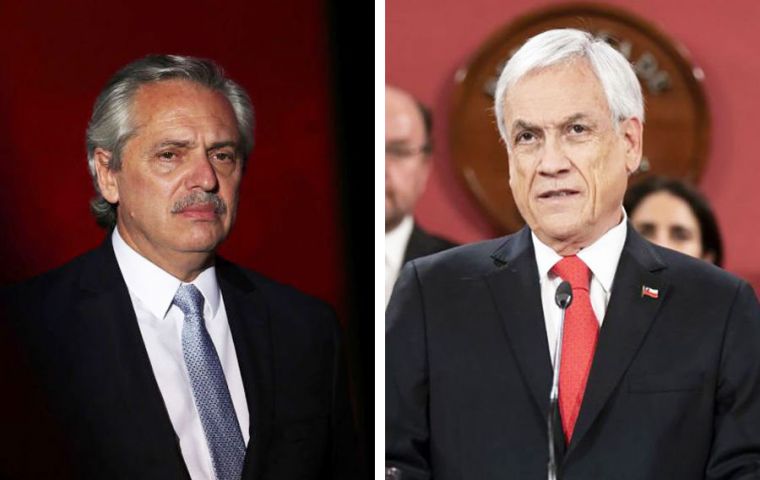 In a formal public release, the Chilean Foreign office demanded that Argentine president Alberto Fernandez avoid making comments about the internal affairs of the country, following Fernandez statements during a television interview that the international community was not so critical of Chile as it is of Venezuela.
Chile reported that foreign minister Teodoro Ribera contacted his Argentine peer, Felipe Solá to express his "surprise" and "concern" regarding president Fernandez comments and recalled the "convenience of not making comments about domestic policy situations in either countries".
In a television interview, president Fernandez referred to the Chilean and Venezuelan situations and said that the international community talks "far less" about human rights violations,
allegedly committed in Chile, compared to other similar situations in other countries.
"I recall a few days ago when I received human rights organizations from Venezuela, when back in 2013 following street protests Maduro jailed 800 people. Piñera arrested 2.500 and nothing happens, not a word is said. Let us be fair, let us say the whole picture" Fernandez stated adding that he has a good relation with Piñera.
Foreign minister Ribera repeated to Solá the content of the release and that "in Chile the rule of the law prevails and it is not the president, but police forces, the Prosecution Office, the courts,
that have the attributions to arrest, investigate, take to court, prosecute, convict those responsible for crimes"
The alleged human rights abuses committed by Chilean security forces have been denounced by different local and international organizations such as Amnesty International, the Inter American human rights Commission. President Piñera has admitted specific cases of abuses by the forces, but has denied point blank "any systematic policy to attack protestors"
According to the latest report from Chile's Human Rights Institute, between 18 October and 30 November, some 8.492 people have been detained, among which 1.013 under age or adolescents. There are also 943 complaints filed against Carabineros of which 750 for alleged torture and 134 for sexual violence. The number of dead since the social upheaval took off is in discussion, 24 according to the Chilean government, 28 say human rights organizations.
Even when Ribera and Sola agreed to meet in the near future to address the bilateral agenda, the Alberto Fernandez administration has had a bumpy start in foreign policy. Besides putting democratic Chile and authoritarian Venezuela at the same level, relations with Brazil's Bolsonaro are certainly not the best, or the approach to Mercosur. Likewise relations with Washington are somehow strained, with neighboring Uruguay, Fernandez openly supported the losing candidate in the recent presidential election, and with Paraguay there is also a clear difference regarding economic policy.