IMF mission expected in Argentina any moment; Fernandez expects to reach an accord by March 31st
Friday, December 27th 2019 - 09:55 UTC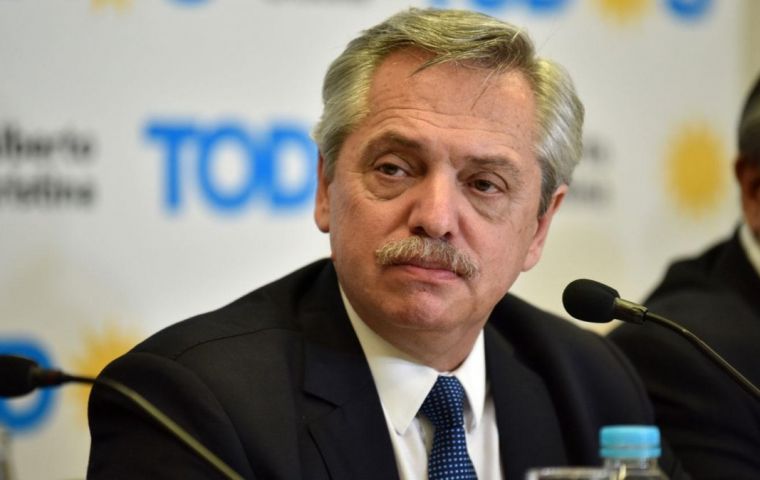 Argentine president Alberto Fernandez revealed to media accredited at Government House, Casa Rosada, that in the coming days an IMF mission is scheduled to arrive in Buenos Aires to address economic issues.
"My main concern is to calm down the economy and Argentina", Fernandez told reporters at the Casa Rosada during an end of the year toast. He confirmed that in the next few days an IMF mission will arrive in Argentina to continue debt and payment negotiations, which he described as a major "condition" for the country.
President Fernandez attended the event for almost an hour with his spokesperson, Juan Pablo Biondi, cabinet chief Santiago Cafiero, the Executive secretary Julio Vitobello and the deputy advisor Julián Leunda.
According to sources from the meeting, the president trusts he can solve the issue with the IMF before March 31st. "We have been holding negotiation for quite some time and hopefully we can reach an accord by that date", indicated the Government House sources.
As to the negotiations, where, when, how, they remain a top secret. So as far as the media is concerned it is not clear whether the target is a "shave" of capital or a deferral of the new maturities
But as president Fernandez repeatedly reiterated on the campaign trail, at Government House the idea is that the IMF has to share the "responsibility" of having awarded such a large standby credit and with not much consideration for the management of the economy by the previous administration of pro business president Mauricio Macri.