Argentine farmers back on the roads protesting export duties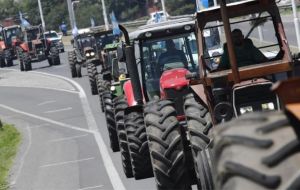 Argentine farmers from the central provinces of Cordoba and Santa Fé are back on the roads to protest the latest raft of export duties on agriculture produce and overall increase in taxes established by the recently sworn in administration of President Alberto Fernandez.
Although the mobilization is still incipient, it seems to escape the command of farm leaders who have been talking with the government in Buenos Aires. In effect long lines of tractors and vans have been meeting in the south of the province of Cordoba and in Rosario City area, and are heading for the Monument to the Argentine Flag, an impressive architecture next to the Parana river.
So far, according to the latest reports from the self convened farmers, some 60 tractors and over a hundred vans have met at the town of Bell Ville, while the column heading for Rosario is made up of over 300 tractors, farm equipment and vans.
As part of the social solidarity and production recovery bill recently passed by Congress, duties on oil seeds, mainly soy beans can be increased from 30% to 33%. Likewise wheat and corn export duties can be raised from 12% to 15%, and similarly with other farm produce such as meat and dairy produce.
According to farmers organizations, given the current fiscal voracity, and the level of international prices, in 2020 the Argentine state, at all its levels, from federal to municipal, will keep 53% of the income generated by a hectare of soy beans, while farmers will suffer a loss of US$ 32 per hectare.
"Our refrigerators full of taxes" read one of the many posters carried by the protesting farmers, which as mentioned above are marching spontaneously, and with no public blessing from their groupings and leaders.
A decade ago organized farmers also marched on cities and put up pickets limiting provisions to urban areas. The several months long strike was finally won by the protesting farmers and then president Cristina Fernandez was on the verge of resigning when Congress repealed the famous Resolution 125/2008 increasing duties.