Carnival Panorama wins the "Best New Cruise Ship of 2019" Award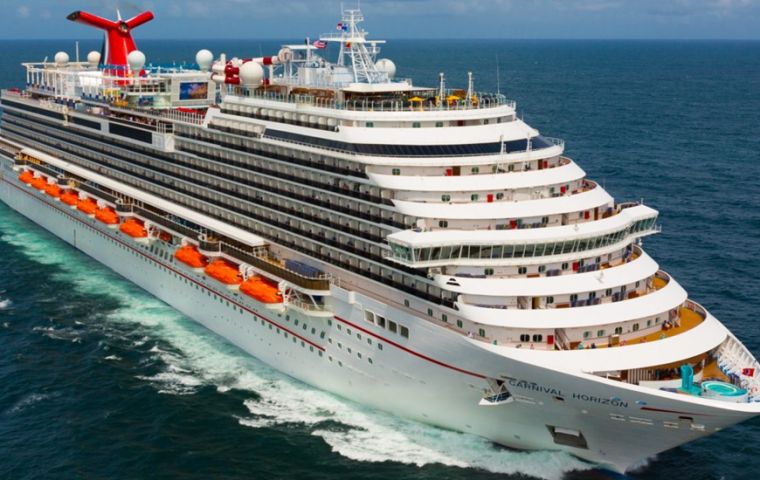 Carnival Panorama has won the "Best New Cruise Ship" of 2019 in the Cruise Ship Awards. The new Vista-class vessel was up against Spectrum of the Seas from Royal Caribbean, Norwegian Encore operated by NCL, Sky Princess from Princess Cruises, MSC Bellissima from MSC Cruises, Costa Smeralda operated by Costa Cruises, MSC Grandiosa from MSC Cruises and Costa Venezia which is also in the Costa Cruises fleet.
Carnival Panorama won the category by a huge amount and has just recently started sailing for Carnival Cruise Line. The ship was constructed by Fincantieri in Italy and is the third Vista-class ship in the fleet. She recently celebrated her naming ceremony in Long Beach, California with godmother Vanna White and launched year-round Mexican Riviera cruises from the terminal on December 14, 2019.
Carnival Panorama is the first new Carnival cruise ship to be based on the U.S. west coast in 20 years. The ship offers Mexican Riviera cruises including calls at Puerta Vallarta, Mazatlan, and Cabo San Lucas.
She features the first Sky Zone trampoline park at sea, the first Heroes Tribute bar in the fleet and the largest retail offerings in the fleet. Many popular favorites such as Guy Fieri's Pig & Anchor Smokehouse Brewhouse can also be found onboard just like sister ship Carnival Horizon.
The new Carnival cruise ship is 133,500 gross tons with a guest capacity of 4,008 at double occupancy. She has 15 passenger decks and 1,450 crew members.
Spectrum of the Seas came in a faraway second place in the category. The ship is the first Quantum Ultra class in the Royal Caribbean fleet and was constructed at the popular Meyer Werft shipyard in Papenburg, Germany. She is based out of China and is 168,800 gross tons with a guest capacity of over 4,200 at double occupancy. The ship started sailing from Shanghai, China in June 2019 after completing a 46-night Global Odyssey voyage.
In a close third place came the new Norwegian Encore which was one of the biggest highlights of the year. The final Breakaway Plus-class cruise ship operated by Norwegian Cruise Line is 167,800 gross tons with a guest capacity of over 3,900 at double occupancy. She features the largest Go-Kart track at sea and debuted from Bremerhaven, Germany on October 31, 2019. Her naming ceremony took place with godmother Kelly Clarkson in Miami on November 21, 2019.
Sky Princess which is operated by Princess Cruises came in fourth place. The Royal-class cruise ship began sailing from Fort Lauderdale, Florida in December 2019. The 147,700-ton vessel has a guest capacity of 3,660 and was built by Fincantieri in Italy.
The giant MSC Bellissima came in fifth place and the second Meraviglia-class vessel for MSC Cruises was constructed at the Chantiers de l'Atlantique shipyard in Saint-Nazaire, France. She was christened in Southampton in March 2019 and is 171,598 gross tons with a guest capacity of 4,434 at double occupancy.
In Joint sixth place came the Costa Smeralda from Costa Cruises and the MSC Grandiosa from MSC Cruises. Costa Smeralda is the largest ever Costa cruise ship and powered by Liquified Natural Gas (LNG). She was delivered from the Meyer Turku shipyard in Finland in early December and is based in Europe.
MSC Grandiosa which is a Meraviglia-Plus class ship was christened in Hamburg on November 9, 2019, and is a massive 181,000 gross tons. She began regular 7-night cruises in the Western Mediterranean on November 23, 2019. In the last place with the least amount of votes from Cruise Hive readers was Costa Venezia which is another vessel operated by Costa Cruises.
1. Carnival Panorama (Carnival Cruise Line)
2. Spectrum of the Seas (Royal Caribbean)
3. Norwegian Encore (Norwegian Cruise Line)
4. Sky Princess (Princess Cruises)
5. MSC Bellissima (MSC Cruises)
6. Costa Smeralda (Costa Cruises)
7. MSC Grandiosa (MSC Cruises)
8. Costa Venezia (Costa Cruises)
The Cruise Hive Cruise Ship Awards is now in its sixth year and opened up for voting in mid-September 2019. The results are only according to Cruise Hive readers and don't reflect any official rankings. With thousands of votes, this year readers have been able to only vote once in each category. Any repeat IP address was not counted along with any suspicious votes.
Carnival Cruise Line has already won the Best Cruise Ship Feature and Best Cruise Ship Refurbishment. Thanks to everyone who has voted this year and keep checking as more results are still to be announced.